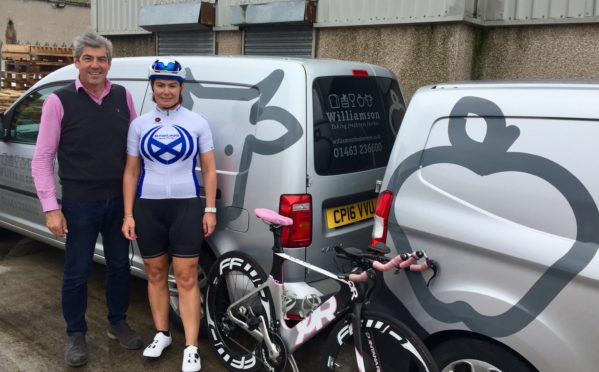 An endurance athlete from Lewis has completed her cycle ride from Land's End to John O'Groats – despite failing in her attempt to become the fastest woman to complete the distance.
Christina Mackenzie, born and bred in Stornoway, carried on cycling despite knowing as she neared her destination that time was against her and she wouldn't beat the record.
She set off from Land's End on Sunday at 8am, and kept up to half an hour in hand most of the way north.
She was trying to beat Lynne Biddulph's record of 52h 45min 11 sec set in 2002.
Christina covered the first 766 miles, to Golspie in 48 hours, but her record-breaking hopes were dashed when she had to battle a head wind on Monday afternoon, seeing her advantage dwindle.
Supporters, including Lynne, turned out along the way to cheer her on at various points during the 839 miles.
Christina would have had to reach John O'Groats by 12.45 yesterday afternoon but finally made it at 3.25pm.
Professional mountain biker and fellow Hebridean, Kerry MacPhee of South Uist tweeted: "Unbelievably hard challenge and she is still a champ. Painfully close."
Another Twitter fan said it was 'an impressive, classy and inspiring attempt.'
Christina works in Falkirk as a swimming development coach, and is a member of Stirling Bike Clulb.
She has spent the past year training and preparing for the attempt.
She registered her attempt with the Roads Records Association (RRA) and was supported on her journey by three vehicles, six core support crew and four RRA officials.
Christina is the current holder of the British women's Veteran Time Trials Association 24h time trial record, and has an impressive track record in extreme endurance events like Ironman, which she has completed six times, The Celtman triathlon and The Race Donegal, Ireland's 24h endurance challenge.
She has also raced in the London and Boston marathons, and was a medallist in the Natwest International Island Games Bermuda 2013 in triathlon, half marathon and time trial.
Using gofundme, Christina had raised more than £7,000 to cover her £6,500 organisational and safety costs.
Surplus money raised will be donated to the Cancer Research UK committee in Lewis.