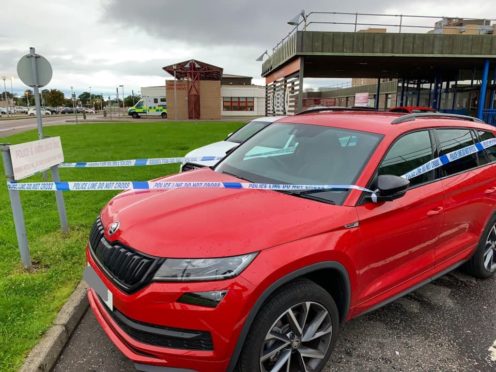 Police have issued a warning after a car was spotted parked in an emergency zone reserved for ambulances at Raigmore Hospital in Inverness.
The vehicle was covered in police tape close to the outpatients entrance when it was pictured by Inverness South councillor Duncan Macpherson on Saturday night.
Councillor Macpherson said: "I have been visiting a friend most evenings at Raigmore Hospital and I looked over and spotted the car.
"I thought that's bizarre –  the car was still parked there on my return with police tape wrapped around it and thought I would take photos before it got too dark."
Parking at Raigmore has been a hot topic for years, with spaces at a premium during office hours.
Anecdotal evidence has suggested that some people have used the car park as a park-and-ride, storing their vehicle there before catching a bus or taxi to Inverness city centre or Inverness Airport.
Councillor Macpherson is convinced this is exacerbating the parking problems at the Highlands' largest hospital.
"Parking at Raigmore is tight and this highlights the need for an overspill carpark," he said.
"People have been using this car park as a free facility. Blatantly people are still doing this – it's distasteful that they would do this and encourages people to park in disabled bays."
A police spokesman said: "It is important that all road users show due care and consideration for others and do not allow their vehicle to cause an obstruction.
"Parking in an area clearly marked for the use of emergency vehicles is irresponsible and appropriate action will be taken against anyone found to be committing an offence."