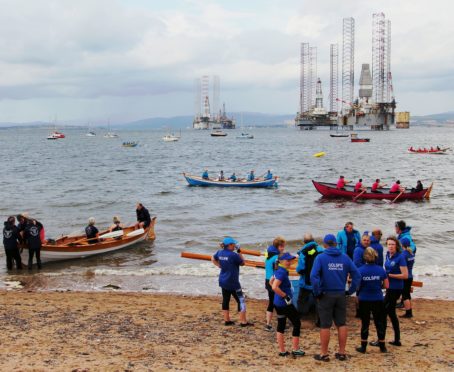 In challenging conditions, 14 coastal rowing clubs took to the Cromarty Firth in St Ayles skiffs on Saturday to compete in two championships.
Teams from all over the north-east and Ullapool converged on Cromarty in conditions described as "challenging".
The four-oared 22ft skiffs battled winds gusting up to 25mph from the west, tackling a 1.2-mile course around some of the oil rigs in the firth.
The weather and tide eventually defeated the final two races.
Scoring and umpiring was undertaken by the Scottish Coastal Rowing Association, with Drew Mann as chief umpire.
Broughty Ferry took the North-East championship, while Avoch and Golspie tied for the Moray Firth Shield.
Yesterday the teams went out on 500 yd non-competitive sprint races.
The event was hosted by Cromarty Rowing Club, which has two skiffs, Cromba and Tess.
Club secretary Matt Grist said the club has grown exponentially since it started three years ago.
He said: "We have 140 members now, and having built our first skiff, Cromba, we quickly realised we needed a second one.
"We could really do with a third one, but our most pressing project is to build a proper boat house for them."
Mr Grist praised the skiff movement for bringing coastal communities together again.
He said: "It has benefits far beyond rowing.
"It's become a lynch pin of our community.
"The love of rowing has joined up coastal communities again as people meet up regularly and make new friends."