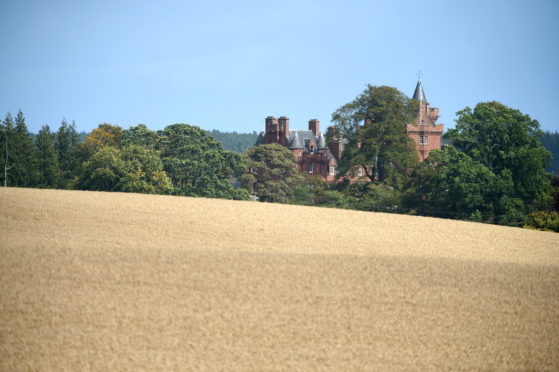 Stagecoach billionaire Dame Ann Gloag has signalled another attempt to develop her Highland estate by lodging early plans for visitor accommodation near Beauly.
Documents lodged so far with the council are scant on detail, describing the new proposal, south of Ballindoun Lodge, as "visitor accommodation with associated landscaping, access, footpaths, parking and associated amenity buildings".
Agents Savills say the proposal is the first step towards an application for planning in principle, and the detail is still vague, pending consultation with local residents.
A public drop-in exhibition event is being held on Wednesday September 25 when proposals for new visitor accommodation in an area of cleared forestry north of Kiltarlity will be shared with the local community.
The event, which will run from 2pm until 7pm in Kiltarlity Hall, will be an opportunity for the public to see the emerging proposals for the site, and discuss the proposed development with members of the project team.
Angus Dodds of Savills Planning said: "Our client is hoping to bring forward a development which will meet a latent demand from a growing number of visitors to the local area.
"The emerging proposals take inspiration from the surrounding woodland and the landscape and historical context of the site.
"It is important to all in the project team that the scheme remains proportionate in scale and sensitive in form to its riverside surroundings.
"The concept is at a very early stage, and no planning application has yet been made.  However the project team is keen to hear the public's thoughts, to ensure that the project can be informed by local considerations as far as possible.
"The next stage would be to submit a planning application to the Highland Council, at which point there would be an opportunity to make representations on the application to the planning authority."
Gloag Investments has already unsuccessfully attempted turn 400 acres of the Beauly estate into a golf and country club.
Proposals for the Beaufort Castle Golf and Country Club, which included an 18-hole golf course, 81 lodges and a country club were thrown out by Highland Council planners in 2006, saying the scale of the development was unacceptable and inappropriate.
More recently, Mrs Gloag had an application for a three-bedroom holiday lodge approved on appeal in 2017.
Mrs Gloag, 79, bought the 24-bedroomed Beaufort Castle, ancient seat of the clan chief of the Frasers of Lovat, in 1995 for £2m.
There are 15 other cottages and lodges on the 800-acre estate.