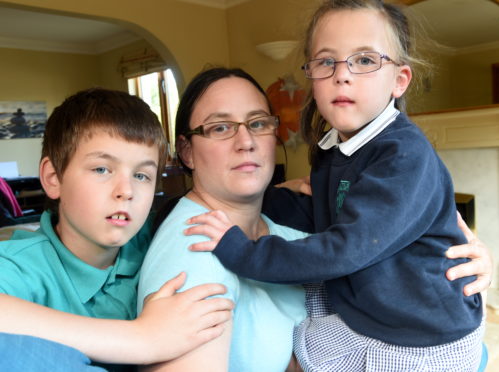 A mum has condemned a council savings drive that means children in the Highlands receive less teaching time in their first years at primary than elsewhere.
Pupils in P1-3 across the north spend 22.5 hours in the classroom every week instead of the 25 hours for children in some other areas, including neighbouring Moray.
Annually, that amounts to almost four weeks less of teaching time.
An Easter Ross mum is now calling for the Scottish Government to intervene and remedy the "unfair" situation.
Susan Crookes, of Evanton, said: "We believe every child should be given the same opportunity, and not denied based on where they live."
Highland Council says the system allows P1-3 teachers to take 30 minutes of "class contact reduction" (CCR) time outwith teaching hours, and saves having to pay for a special "CCR teacher" to cover such a break during the school day.
Mrs Crookes has launched a petition asking the Scottish Government to ensure equal teaching hours for all Scottish pupils.
She moved to Evanton from West Lothian, where her son Benjamin had received 25 hours per week, and went on to receive the same when he entered P4 at the village's 130-pupil Kiltearn Primary School.
When daughter Hannah started P1 last year, she spent just 22.5 hours in class.
Mrs Crookes collects Hannah from school, but said children who rely on the bus routinely wait half an hour for it to pick them up with the P4-7 children.
She said: "It is unfair that many children receive more education than others."
Her petition states: "Over a four-week period many Scottish children are missing out on 10 hours of teaching other authorities provide. We would like to see equal schooling hours for all children in Scotland."
A Highland Council spokeswoman said: "P1–3 pupils in Highland attend 22.5 hours per week and teachers take their CCR time of 30 minutes per day outwith the contact time with children, saving the need for CCR teachers.
"P4-7 pupils attend 25 hours per week. Class teachers deliver 22.5 hours of the curriculum and then 2.5 hours is delivered by a CCR teacher."
She added: "Start and finish times to the school day can vary by school, which means P1-3 children who use bus services may have to wait for their P4-7 peers to finish school as this service is shared."
The Scottish Government says learning hours should not be decided by cost.
A spokesman said: "It is for local authorities to make decisions about the learning hours provided, but these should be based on the educational benefit to pupils rather than to reduce costs."
A spokesman for teaching union EIS said: "National EIS policy is that all young people, no matter where they live, should have access to the same quality of education as young people in other parts of the country.
"While local authorities do have flexibility in how the school week is organised, this should never be used as a means of cutting the overall length of the pupil week.
"Whenever reductions to the pupil week have been proposed by authorities as a cost-saving exercise, the EIS has worked with parent groups to oppose those cuts and to protect young people's education."