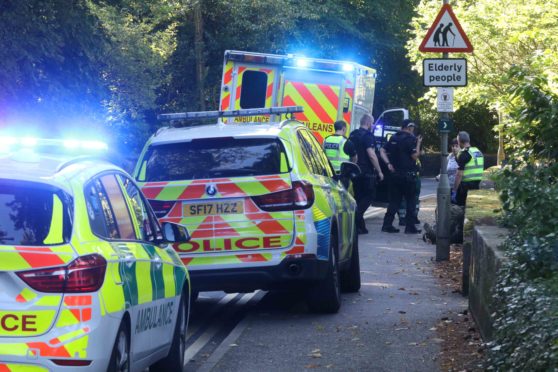 A witness has told how an "incredible" holidaying nurse performed CPR on a runner who had collapsed in Inverness.
The man, who has not been identified, was lying on a path through the city's Ness Islands, a popular scenic route for runners, cyclists and dog walkers.
Passers-by who stopped to help were convinced the man was dead, and somebody called the emergency services.
But, almost half an hour after people first started trying to help him, a nurse on holiday from Canada came across the scene.
She was convinced he was still breathing and began performing CPR – and by the time emergency services arrived, she was able to hand over to them.
The man was taken to Inverness's Raigmore Hospital and was then taken to Aberdeen Royal Infirmary.
An unnamed passer-by who stopped to help the man said: "He was dressed in a jogging outfit so it was clear that something had happened while he was out exercising.
"We called an ambulance to help him.
"Then a woman, a Canadian nurse who was on holiday in the area, came over and threw down her bike.
"She said he was still breathing. She started to work on him. And he started to revive.
"Then the paramedics arrived.
"The Canadian woman should be praised for all she did, as should the paramedics. It was incredible.
"I sincerely hope that the man continues to recover."
A police spokeswoman confirmed: "We were made aware of the incident at around 10.30am – a male had been found unconscious on the main section of Ness Islands and was taken to Raigmore Hospital then onto Aberdeen Royal Infirmary. "
The Ness Islands are situated on the River Ness, near Bught Park.
It is a popular and busy walking, running and cycling route throughout the year.