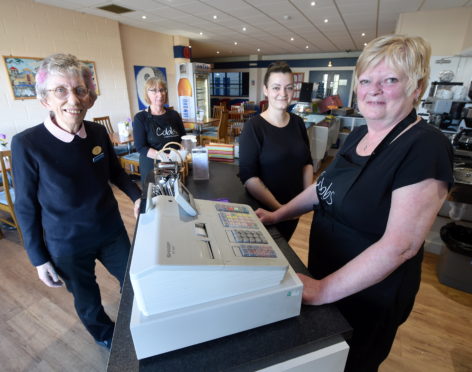 The future of a popular Inverness community café looks brighter only days after its permanent closure was announced.
Hilton community centre's café operators, High Life Highland (HLH), have confirmed that the coffee shop in the centre will remain open and fresh tenders will be issued for an operator to run it in around eight weeks.
Celebrating staff say they are 'ecstatic' at the turnaround.
The café had seen a number of challenges to its survival over the past year as previous operator The Archie Foundation withdrew from the site.
Hilton cafe to close and be replaced with vending machines as no resolve found with High Life Highland
Catering provider Cobbs carried on with the service and unsuccessfully sought another charity to work with.
At issue were the business rates, some £6,000 a year.
Cobbs offered to pay half the rates, with the community centre's management committee making up the rest in an offer that was initially declined by HLH, and the café was set for closure at the end of this month.
Amid considerable community protest and after a flurry of meetings between all parties and local councillors, HLH has now withdrawn its intention to install vending machines, saving three jobs.
HLH says it has been approached by private operators "expressing an interest to absorb the various costs associated with operating the coffee shop and look to take on the running of the outlet".
Councillor Ron MacWilliam said he was delighted the café had been saved from the axe.
He said: "It is after all a vital social hub for the area, many local residents rely on the café and would be quite isolated without it.
"The cafe has been plagued by financial problems in recent times with non-domestic rates overheads cited as the major obstacle to its viability."
Fraser Campbell of Cobbs confirmed that Cobbs would put in a bid for the  new tender, offering their own services in kind, and paying half the rates, with the community centre paying the other half.
He said: "The café is much needed in Hilton, by mums and babies, young children and the older generations.
"We're prepared to stop doing other charity work and concentrate on the café if necessary.
"It was cruel to think that long-standing staff could be replaced by vending machines."
Café manager Sharon Cameron thanked everyone who had supported the centre by signing the 1300 signature petition to save it.
She said: "What a turnaround, we are ecstatic.
"We've got lots of new ideas to implement once the tender is awarded, especially regarding the elderly."
Angus Dick of the Hilton community centre management committee said he was also delighted at the outcome.
He said: "The café has been going since 1991 and would have been a big loss to the community."