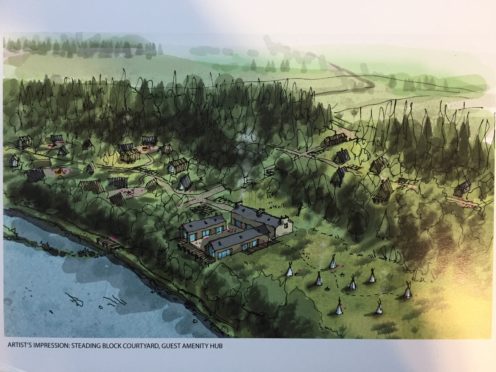 Local residents have had a chance to look at early plans for a proposed woodland holiday village in the grounds of Stagecoach billionaire Dame Ann Gloag's Beaufort Estate near Beauly.
Around 50 people attended an exhibition in the Kiltarlity Hall, staged by Savills, at which a number of early sketches were displayed.
Among them was Norman Grant of Kiltarlity community council, who said there was not enough detail on the proposals to make any kind of judgement.
He said: "It was more like a scoping exercise, with very little detail on the layout or the lodges.
"We understand it is to be an upmarket development of lodges of different sizes and possibly yurts on stilts.
"Our main concern at this stage is the access and additional traffic that will be on the roads, but again we don't have enough detail."
Savills said the project team will now take time to reflect on the feedback from the consultation as it undertakes a more detailed analysis of matters such as flooding, drainage, transportation and access.
Angus Dodds of Savills said: "All sites come with their challenges and a community consultation is a great way to understand what these might be from a local perspective.
"What the project team recognises is that a woodland environment is attractive and, allied with an increasing demand for visitor accommodation in the local area, a site like this presents a superb opportunity to do something really positive that will increase the supply and range of accommodation, ensure good ongoing woodland management, and help create local jobs."
The next step will be an application to Highland Council for planning in principle.
Gloag Investments has in the past unsuccessfully attempted turn 400 acres of the Beauly estate into a golf and country club.