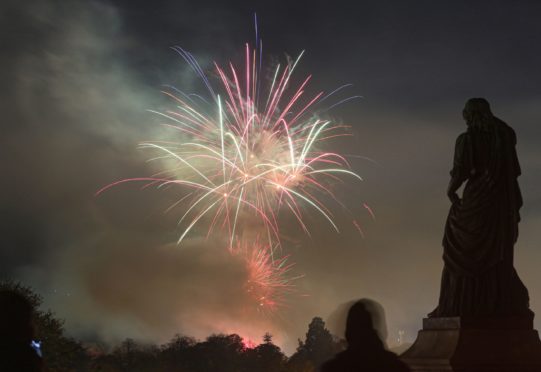 The Inverness sky was awash with colour last night as thousands of spectators turned out to watch the city's firework display go off with a bang.
A 20,000-strong crowd gathered at the Bught Park on the banks of the River Ness for a spectacular evening of entertainment.
Making the most of the warm glow from a roaring bonfire, the audience endured the evening chill to witness a spellbinding 20-minute display.
As the clear night's sky turned from  green, to pink, to gold, spectators declared it one of the best performances they had seen in the city.
Joseph Maclean from Kiltarlity was celebrating his 16th birthday and said the day had  been made even more special thanks to the outstanding display.
He said: "It was excellent. I enjoyed the music in the background. Really I enjoyed everything about it."
At the Bught, there was plenty of entertainment for all ages throughout the evening, from fairground rides to food and live music.
The gates opened at 5.30pm with crowds flooding into the park to enjoy performances by the likes of the City of Inverness Youth Pipe Band.
As anticipation built to the evening's finale, Provost Helen Carmichael stepped forward at 7.30pm to spark the city's giant bonfire into life.
Spectators then began the countdown to the event's main attraction.
The extravaganza was set to the music of well-known musicals including Grease, Phantom of the Opera and The Lion King, with all proving a hit with the crowd.
The annual event is one of the highlights of the Highland Council's winter festival and David Haas, Inverness city area manager, said he'd been delighted by the size of the crowd.
He said: "It's a fantastic turnout from everyone.
"It is important to us and the councillors, especially those who are in charge of the Inverness Common Good Fund, to ensure the money invested in the display is spent wisely.
"What better way than for all these people to enjoy themselves safely and in an environment like this and to go away happy and looking forward to the next event.
"It helps our city. It thrives and survives because of its people. The more who take part in what Inverness has to offer the better."
Following the display, Depute Provost Graham Ross commended the team on another outstanding display.
He said: "It was absolutely brilliant. The whole team put in so much time and effort it's absolutely fantastic and a special night for Inverness."