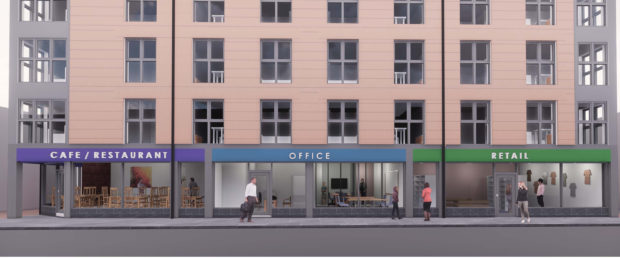 A multi-million-pound development in the heart of Inverness is beginning to take shape as business entrepreneurs set their sights on new retail opportunities.
The £5million landmark development of 79 Academy Street – formally home to Farmfoods – was launched a year ago to coincide with ongoing efforts to reinvigorate the city's busiest street.
The development, named Wyvern House, will comprise of 37 one and two-bedroom properties, alongside three commercial units located on the ground floor of the residential complex.
As the initiative begins to take shape, traders are showing significant interest in the new development, with the street's new spacious commercial units being put up for rent.
Bill Nelson of Capital Developments said he was pleased with its progress, in terms of construction and as a prominent selling point for the city.
He said: "Capital Developments has started marketing the availability of three new, high-quality commercial units in Academy Street and is delighted with initial interest, coming from a wide section of the market with cafe, office and various types of retailers all interested in occupying space."
He added: "Progress on the site has been good and we are looking forward to assisting the regeneration of Academy Street by providing these prominently located new units.
"They have been designed to offer extensively glazed frontages and are available for rent with completion scheduled for late spring next year."
Wyvern House is being developed as part of the Highland Council's efforts to breathe new life into the area, coinciding with the transformation of its neighbours at the former Rose Street Foundry.
Ground work on the city centre site began last November by contractors Morrison Construction, in advance of the installation of a 20-tonne tower crane in May when the initial phase of construction works started.
The scheme is being brought forward in collaboration with the Highland Council and the Highland Housing Alliance and is scheduled for completion next summer.
The works are being funded by Highland Council, Highland Housing Alliance (HHA), the Scottish Government and the Highland City Region Deal.
A Highland Council spokesman said: "The Highland Council is delighted with the progress of Wyvern House which is on schedule for completion.
"This development will add to the continued regeneration of Academy Street which is seeing significant levels of investment from both public and private sectors."