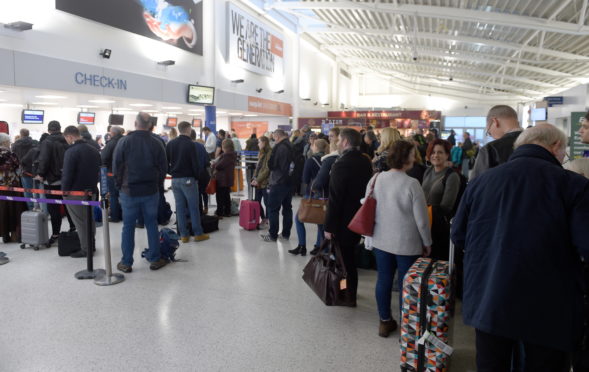 Hundreds of frustrated passengers have been left stranded at Inverness Airport due to thick fog grounding dozens of flights.
Services to and from Kirkwall, Manchester, Belfast City, Birmingham, East Midlands and London are subject to diversions or cancellations affecting significant numbers of travelling passengers.
Teresa MacKenna, 60, was due to fly home to Belfast after a holiday with family in the north, but was left standing for hours in lengthy queues as she waited for answers.
With the delays leaving her no choice but to take two days off work – in the run-up to the festive season – she said she was "annoyed" at being left in the dark by airport staff.
She said: "I'm disappointed but I understand because of the weather. You can't predict the weather.
"It's a bit annoying. We had been sitting for three hours and the guy behind the bar said nothing. If it's going to be cancelled, and you know it's going to be cancelled, let passengers know instead of waiting before it's too late."
Dozens of passengers were able to rebook seats on departing flights from Aberdeen and were ferried by coach to make their connections, while other passengers were taken by taxi to the central belt to make alternative connections.
Christine Hinds from Derby was left facing a three-hour taxi journey to Edinburgh Airport following the cancellation of her scheduled Birmingham flight.
The 72-year-old grandmother spent the weekend visiting her son in Kirkhill, but the break turned to chaos when she was faced with her second year of delays.
She explained: "We had it last year, around the same time, going from Aberdeen. It's going to be a long day.  I don't think we will come again next November. Lesson learned after the second time."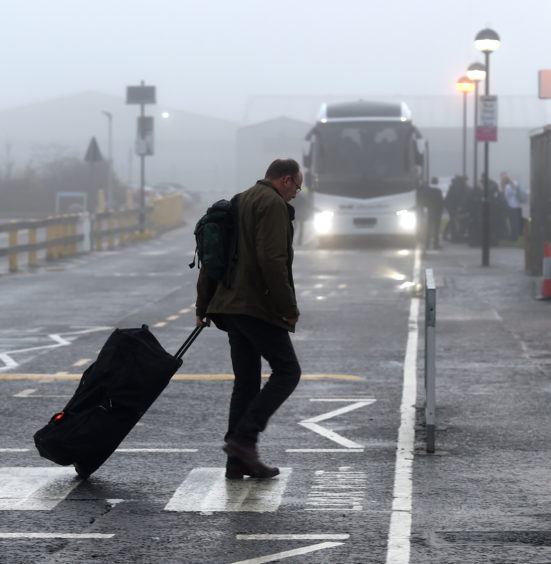 Inverness Airport general manager Graeme Bell said: "By 8am, it was quite clear there was going to be an issue" but commended staff for their dedication and hard work.
He added: "It's just unfortunate because everything is outwith your control. The one thing we can't control is the weather or the environment around the airport.
"It doesn't matter how much technology you actually have, you can't get flights in if they can't see where they are landing.
"Passengers just want to get to where they are going and airlines are doing everything within their power.
"Some flights have been cancelled and we are looking after the welfare of these passengers and some folk are heading off to Aberdeen to catch aircraft there."
As the fog began to lift shortly after 3pm, flights from Bristol and London were able to land due to improved visibility.