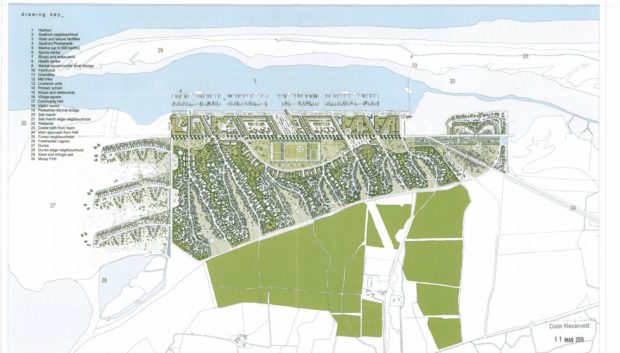 Multi-million pound plans for a new town in the Highlands are back on the table.
Property developers CWC Group have resubmitted plans to transform the site of the former McDermott fabrication yard at Ardersier, two miles north-east of the village, five miles west of Nairn and 10 miles east of Inverness.
Their plans for the 700-acre site include up to 1950 houses and flats of mixed types, including a proportion of affordable units.
Community facilities envisaged include a health centre and primary school, and a potential of 2,325  parking spaces for residents and visitors.
A  4-star 80-120 bed hotel is proposed, with health club and conference facilities.
A marina of up to 500 moorings is also part of the package, with associated boat yard and yacht club.
A visitor centre, shops and restaurants would also be included.
There would be landscaping throughout the development including play areas, an adventure playground and playing fields.
The developer also envisages nature conservation zones within the site and an upgrade of the existing services infrastructure and internal road network.
Planning permission in principle was initially granted on the site in 2007, since when most of the buildings on the site have been demolished and the land, originally reclaimed from marshes in the 1970s through the re-use of material dredged up from form the harbour.
A public drop-in consultation will be held on Friday December 13 at Ardersier War Memorial Hall between 3pm and 7pm.
Businessman and cheesemaker Callum Clark of Connage Dairies on the outskirts of Ardersier said if the plans came off he would welcome more people in the area.
He said: "It would be better for business and better for attracting funds in to Highland Council.
"But this is a planning renewal at this stage, it's a very long term project."
Local councillor Trish Robertson also gave a cautious welcome to the idea.
She said: "It's a good site for a major development and job creation.
"I'm not sure about the need for housing, with Tornagrain nearby, more developments east of Inverness and 100 houses about to start in Ardersier.
"I would call into question its sustainability and viability,  but it would be a good site for something like a new out of town hospital, with plenty of parking."
CWC did not respond to a request for a comment.