VIDEO: North and north-east pupils stage climate strikes
Young people across the north and north-east skipped school yesterday to stage a protest as part of the Scottish youth climate strike.
In Inverness, students, mainly from Fortrose Academy and Inverness Royal Academy, held up banners and chanted in Inverness High Street.
They were joined by local Extinction Rebellion activists, while members of the public either stopped to join in for a few moments, or walked on by with indifference.
Behind the youthful exuberance on display, real anger was expressed by the teenage activists.
Leader of the strike, Martha Spence, 17, from Fortrose Academy organised the previous strike in September.
She said: "I'm not able to vote in this general election and I want to make sure that the young people's voices are heard.
"I'm lucky in my school where they let me put up posters, but it's very shocking the amount of teachers who say don't do it, there's no point.
"I plan to organise as many strikes as necessary until climate justice is here."
Protestors also gathered in Forres town centre to hold a "mass die-in" to symbolise extinctions of species happening across the world as a result of climate change.
Earlier, activists had cycled the forecast coastline of Findhorn Bay in 2050, which is expected to threaten the beauty spot with flooding over the next 30 years.
And there were further protests in Aberdeen, where there has been significant concern in recent years about air quality.
Council chiefs have prioritised measures designed to curb the number of vehicles entering the city centre as part of a 25-year masterplan.
The international movement, Fridays For Future, was started by teenage activist Greta Thunberg in 2018 and encourages pupils to protest against governments' lack of action on climate change by not attending school on Fridays.
Inverness Royal Academy pupils Lily Henderson and Cora Ditta, both 15, joined the strike action yesterday.
Cora said: "We're striking for our lives. Climate change will affect all of us, we've been seeing it for weeks in Scotland with the flooding.
"We need politicians and adults with the upcoming general election to listen to what we need to happen."
Lily added: "I think it's ridiculous that politicians are doing nothing about it and I'm having to skip school to do this.
"I am angry as I can't vote, so this is my way to get my voice heard.
"Politicians have only got a few years before my generation rises up and we'll all be voting to stop climate change."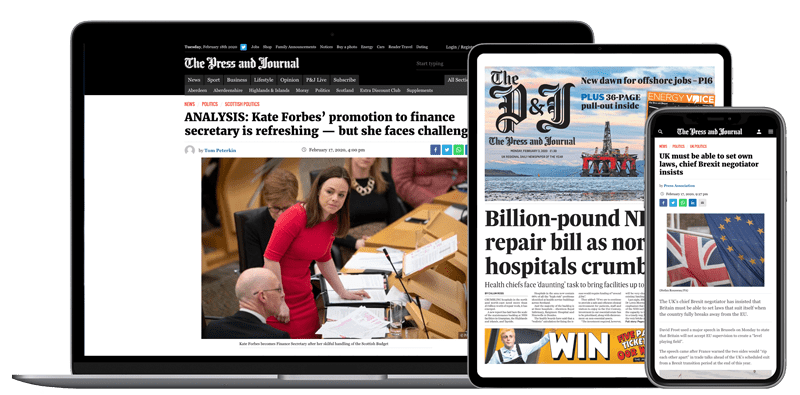 Help support quality local journalism … become a digital subscriber to The Press and Journal
For as little as £5.99 a month you can access all of our content, including Premium articles.
Subscribe