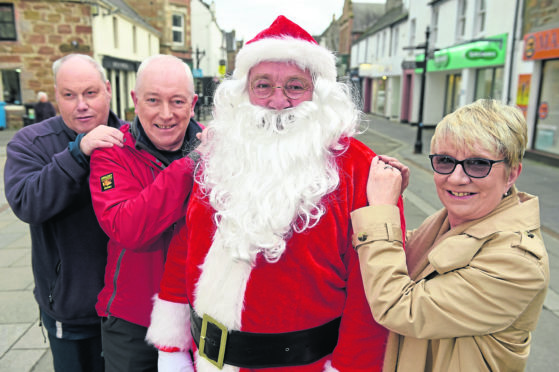 Dingwall residents left disappointed by a poor show of Christmas lights last year are looking forward to a spectacular display this time.
A concentrated joint operation by Dingwall Community Council along with several partners has taken place over the past two months to ensure that the High Street is in sparkling form at the switch-on tomorrow.
After an engineering report condemning the state of the overhead cables as potentially lethal, and funding cutbacks from Highland Council, community council members realised they had to take drastic action.
Group chairman, Jack Shepherd, said: "We had a challenging few months where we had meetings with the council and all the partners to agree a plan of action.
"Ark Estates took care of the wiring, the council supplied all the equipment and fittings, we went round all the proprietors of the premises and asked for permission to attach the cables and O'Brien Properties put in the fittings.
"It gelled everybody as a group and brought all the different parts of the community together."
In the early days, the challenge seemed so daunting that community council member Andrew Macivor said he feared there could have been no lights in Dingwall this festive season.
He said: "It's been all hands to the pump to get it done.
"Everyone pulled out the stops, including the local councillors who were out there every day checking things were getting done.
"Willie Grey from Ark Estates lifted up the cables and did all the work for us, without his expertise it would have been a struggle."
Mr Shepherd said the town had been energised by the successful Christmas lights project, and advised other communities to follow their example of multi-partnership working to get things done.
He said "Our advice is not to be downhearted if the money isn't there to do things like this.
"We managed to find money, from Tesco's Bags for Life scheme, to buy new lights and bits of equipment, so I would say don't give up.
"If any other groups want to get in touch with us we will be able to give help and assistance."
Meanwhile, the organisers of Sunday's switch on say they are looking for plenty more torch bearers for the Christmas procession.