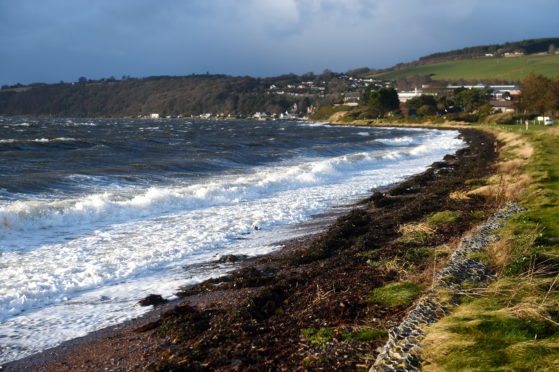 A large stretch of coastal defences has collapsed on one of the Black Isle's most popular beaches sparking a row about who has responsibility for their maintenance.
More than 200 feet of wall fortified by gabion baskets has crumbled away at Rosemarkie campsite.
The beach there is well-loved by locals and visitors but has been battered by recent storms and failed to stand-up to the test.
The collapse has left a pile of rubble and, according to local community councillor Dr Tom Heath, a repair bill that will be upwards of £100,000.
Mr Heath, who is a wave energy specialist, said Fortrose and Rosemarkie community council had warned Highland Council twice last month the situation had deteriorated, the defences were dangerous and that they could be on the verge of collapse.
He said: "We advised them of small-scale gabion damage adjacent to the campsite on November 9.
"On November 27 we advised them the damage was spreading and a large section was in danger of collapse.
"We recommended that timely intervention was possible, but delay was likely to result in general collapse, which has now occurred, multiplying the cost to the public both in money and danger, with a repair bill upwards of £100,000."
But yesterday the council said responsibility for the stretch lay with Scottish Water and gabions (metal cages) installed using Common Good funds further along the beach had not been damaged.
The council spokesman said quotes for work on erosion damage to steps at the Common Good site has been requested.
A Scottish Water spokesman, meanwhile, said the utility only bore responsibility for gabions around one of their outfall pipes – and not the stretch in question.
He said: "We are aware of the damage caused by recent bad weather to a section of gabion baskets installed to protect our outfall pipe at Rosemarkie Beach.
"An engineering report has been commissioned to look at the most effective option to repair the damage and we will continue to monitor the integrity of the outfall pipe closely."
Local councillor Gordon Adam said ownership of the affected site was complicated.
He said: "There is some serious erosion out towards Chanonry Point, with a lot of damage in a short time, but it's not strictly speaking a council matter.
"I can understand Mr Heath's concerns but the council is doing the best it can to address problems along the stretches it has responsibility for."