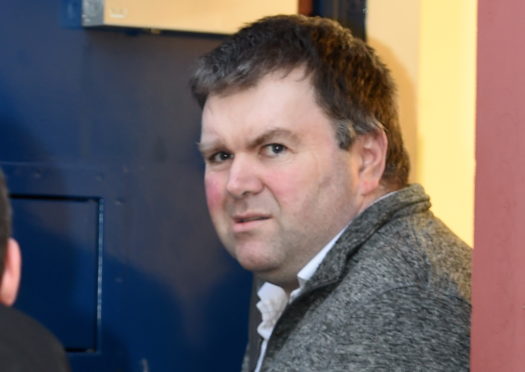 A woman has spoken out about the "devastating" abuse she suffered at the hands of her businessman husband.
Kevin Miller was jailed for 34 months yesterday for his "controlling" campaign against his estranged partner Linda.
The couple's 24-year-old daughter Lauren was also ordered to carry out 280 hours of unpaid work for her role in the ordeal suffered by 47-year-old Mrs Miller.
Sheriff Eilidh Macdonald told the 50-year-old Alness man his "coercive conduct was abusive and controlling, causing your wife distress and long term effects.
She added: "But you have continued to blame the victim."
A five-year non-harassment order was imposed on Kevin Miller, and a one-year order on Lauren Miller.
Yesterday, Mrs Miller bravely spoke out about the abuse she suffered.
She said: "This case demonstrates the devastating lengths to which an abuser will go just to retain power and control and prevent you from leaving. I never ever gave up the hope that one day I would be able to break free and escape for good, and that day came.
"I have remained strong and defiant and have found the strength and courage after all these years, with the overwhelming support of my family, friends and a huge extended support network, to bring charges against my estranged husband, and that has resulted in this court case and conviction and sentencing today.
"My overwhelming emotion is one of sadness as there are no winners today, but I had no choice other than to do this."
Miller's custodial sentence was backdated to May 15 when he was first taken into custody.
During the trial at Inverness Sheriff Court, it emerged Mrs Miller had first been assaulted by her husband in 1994 when she came home after a night out.
Kevin and Lauren Miller, along with another daughter Courtney, 22, had originally faced a total of 14 charges including assaults, stalking, abduction, attempting to pervert the course of justice and threatening behaviour. Not all three faced every charge.
Eleven charges were dropped before the jury returned guilty verdicts on Kevin Miller's assault, and two charges of Kevin and Lauren stalking Mrs Miller between May 2017 and April this year.
The court heard Mrs Miller say that she had left the family home, sought the help of Women's Aid, and then moved into temporary accommodation in Lossiemouth and then Inverness.
But on each occasion her husband and daughter tracked her down, and bombarded her with personal, electronic and third party messages to persuade her to come home.
Mrs Miller added: "I also hope that after reading this, it can give anyone who finds themselves in a similar abusive situation the courage to get out, as abuse of any form should not be tolerated.
"I would also like to take this opportunity to thank the dedicated team of officers from Police Scotland involved in this long and complex case as they encouraged me that justice would be served."