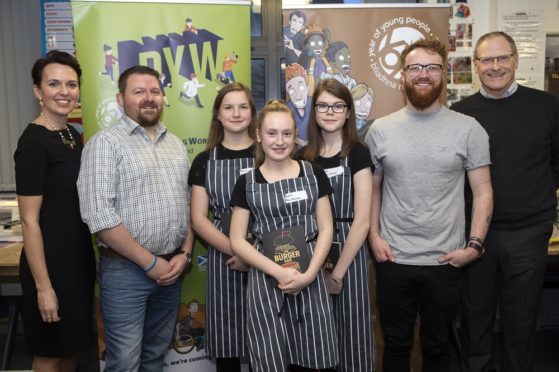 Three Millburn Academy pupils have triumphed at a food design challenge by serving up an original recipe for a mouth-watering burger.
Their creation – a meat-lover's dream – will soon be appearing on a top Inverness restaurant's menu.
The pupils took part in a five-week workshop where they were tasked with designing, developing and marketing a tasty idea for a burger.
Emerging as champions were Katie MacDonald, Nanija Volkova and Iona MacMillan whose entry was a Scotch Beef cheeseburger wrapped in turkey bacon.
Locals will soon be able to try the cheeseburger concoction for themselves in January when it is added to Scotch and Rye's menu for one month.
Proceeds from sales of the burger will support the work of the Millburn Academy Friends in Action parents' committee.
The trio's burger was awarded first place by a panel of food industry's leaders from the Highlands, with representatives from creative agency Dynam, Scotch and Rye, The Redshank Catering Company, Williamson Foodservice and Ashers Bakery all involved.
Eleven groups of school pupils participated in the challenge, which was designed by Developing the Young Workforce (DYW) Inverness and Central Highland, the Food and Drink Federation (FDF) Scotland and Millburn Academy with the aim of encouraging pupils to consider a career in the hospitality industry.
Skills manager for FDF Scotland, Moira Stalker, said: "The amount of work and research all the pupils put in was outstanding.
"I hope this challenge has inspired even more young people to consider a career in food and drink."