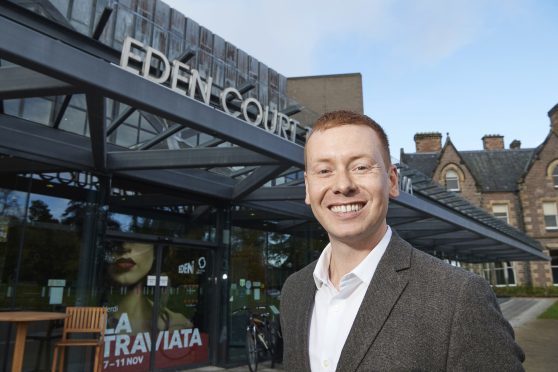 The boss of Eden Court has appealed to Highlanders to give as much support as possible to the arts venue over the coming year to safeguard its future.
James Mackenzie-Blackman said the challenging financial conditions meant that now more than ever people need to donate, and to spend at the box office and in the centre's bars and restaurants.
He made the plea after Eden Court announced a deficit of almost £443,000 in its audited accounts for the 2018/19  financial year, which will be drawn from reserves to balance the books.
He said the main cause of the deficit was the shock announcement in January 2018 of the withdrawal of £200,000 funding from Highland Council and £200,000 from Creative Scotland.
He said: "The budget had been set based on that £400,000, and if we'd had that money, today's deficit would be less that £43,000 which is nothing for an organisation of this size."
But a Highland economist warned that Eden Court will have to do more to cut spending, particularly on salaries.
Tony Mackay said: "Eden Court has had a very good year but the loss is worrying.
"The boss blames that on the reduction in funding from the Highland Council and Creative Scotland but the annual accounts show a different picture.
"There has been a very encouraging increase in commercial revenue but an even bigger increase in expenditure, particularly on the salaries of senior staff.
"I believe it is essential that Eden Court does more to cut spending, particularly on salaries and wages."
Mr Mackenzie-Blackman, whose background is in fundraising, said responding to the cutbacks had meant a reduction in staff, which had incurred costs.
He said: "Eden Court has been cutting its budget for the past decade, but the 2018 cuts were catastrophic.
"We're at a size and scale of organisation where it would be very difficult to reduce the head count further.
"We're questioning everything we do and wondering whether we can do things in different ways and whether they can be funded by other sources as well."
He promised to share more about Eden Court's plans for the future in early 2020.
Donald Robertson, board chairman at Eden Court said: "Through working together, and our audiences continuing to support Eden Court I am confident we will emerge stronger and more resilient following this difficult time."
Highland Council will reduce Eden Court's budget by a further £30,000 in 2020/21.
A council spokesman said: "The council continues to support Eden Court despite significant financial challenges.
"The council is statutorily required to deliver a balanced budget irrespective the  financial settlements it receives.
"As reported by the Accounts Commission last week local authorities have seen a real-terms decrease in funding and underlines the challenges ahead for setting future budgets too in addition to the difficult decisions the council has already taken over  a number of years."
'Rigorously examined'
Eden Court took the budget hit of £400,000, or 40% in its public sector spending, days before James Mackenzie-Blackman took the helm at Eden Court in February 2018.
He said at the time that up to twelve staff were likely to be in the firing line, including  six outreach teachers.
Yesterday, the centre issued a statement saying all aspects of the business had been 'rigorously examined' to reduce costs and wherever possible increase revenues.
"Amongst other actions this resulted in a staff reorganisation which enabled the charity to reduce staff costs albeit with the loss of some valued colleagues.
"All aspects of Eden Court's cost base remain under scrutiny and the venue is continually looking for opportunities to optimise its revenue.
"Eden Court's financial strategy for the coming three years involves the continued development of relationships with funders, both public organisations and individual philanthropists, in order to provide financial support towards delivery of its artistic and creative learning programmes.
In the meantime, reserves, both cash and unrestricted funds, will be applied to support the organisation through this phase in its development and the charity will continue to do all it can to reduced costs without impacting on their relationships with artists and audiences."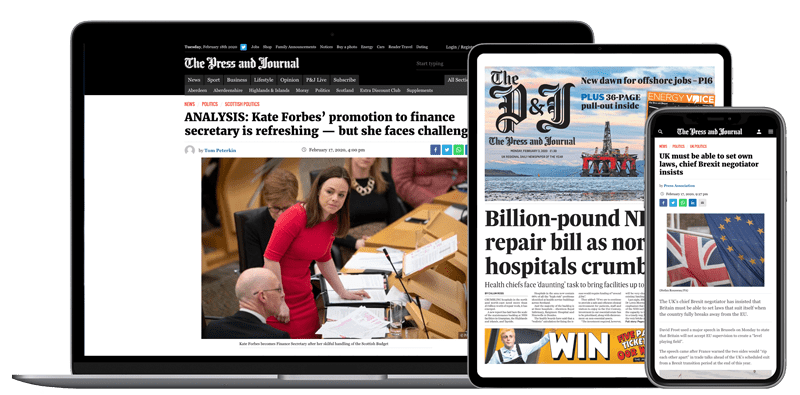 Help support quality local journalism … become a digital subscriber to The Press and Journal
For as little as £5.99 a month you can access all of our content, including Premium articles.
Subscribe