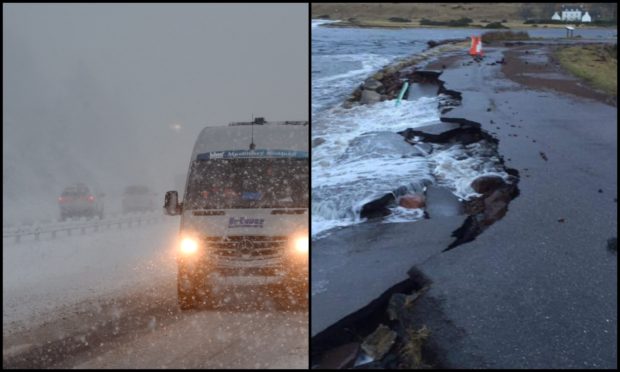 The full extent of the havoc wreaked by Storm Brendan across the north and west was revealed in the cold light of a still testing Tuesday.
Flooding, power outages, road erosion, ferry cancellations, building damage and even cats on the loose were all part of the picture.
The feral felines were in a large run in Munlochy Animal Aid in the Black Isle when their area torn apart in gusts of up to 90mph.
Locals have been asked to look out for frightened stray cats as the centre sets out boxes in an effort to recover the escapees.
A combination of high winds and high tides put the Western Isles on heightened alert, with some causeways closing and others requiring to be cleared of debris washed over them by huge waves.
In North Uist, Baleshare causeway was impassable due to debris, with diggers required to clear it yesterday.
Roads were under significant amounts of water in the Bayhead and Paiblesgarry areas.
Eriskay causeway was closed until the afternoon and on Benbecula, the B892 at Stinky Bay was closed during the morning to allow debris to be cleared.
Police and local coastguard teams worked together across the islands to ensure road safety and continued their safety brief throughout the day.
In Lewis, the Braighe linking Stornoway with Point was closed in the morning and flooding at Stornoway quayside led to coastguard teams assisting with sandbags.
The conditions forced bus operators to cancel their services in Uist and Barra and also closed all schools on those islands for a second day.
Coastguard teams undertook late night home care visits on several islands as conditions were unsafe for staff.
Area commander Murdo Macaulay said a saving grace was the lack of rain after the storm.
He said: "More water run-off would have caused a real problem.
"We're used to wind, but the scale, duration and surges were what caused the problems this time.
"Thankfully there were no injuries."
Kingussie High School was closed yesterday due to the weather, affecting more than 400 pupils, while Elgol primary in Skye opened an hour late, affecting 10 pupils.
Numerous ferries were cancelled up and down the west coast, with disruptions or cancellations affecting 24 out of 28 CalMac ferry services.
Sailings from Oban to the Small Isles and Barra, and Uig to North Uist and Harris were cancelled, along with Berneray to Leverburgh, Mallaig to Armadale and Mallaig to the Small Isles.
A section of sea defences at Applecross buckled under the tidal surge and came away, taking some of the road – part of the NC500 – with it.
The road remained open as Highland Council got a temporary by-pass underway in order for the route to remain open while a temporary repair to the sea defence is made.
The Caithness and Sutherland emergency liaison group met yesterday morning to prepare for the potential of further coastal flooding affecting local communities.
Due to a combination of higher than usual tides and the surge effect caused by Storm Brendan, a number of locations along the coast are considered at risk from flooding, particularly Wick, Lybster, Dunbeath and Helmsdale.
Highland Council and multi-agency partners are advising the public to remain vigilant, with advice and further information available from the Sepa Floodline.
Numerous communities were yesterday counting the cost of flooding that was already all too real
In Fort William, the West End car park was deluged with three feet of water at peak tide and amidst the worst of the winds.
The Crannog restaurant on the seafront appeared to be floating, completely surrounded by water.
Localised flooding also affected the Lochyside/Caol road, the A861 near Resipole on the Ardnamurchin Peninsula and a section of the A82 in the Invercoe area.
Around 20,000 SSE customers in the north lost their supply, with engineers battling winds of 88mph to fix the problems.
By yesterday afternoon, around 300 still remained without power, mainly due to the conditions causing transport delays for engineers.
With ferries cancelled, they were simply unable to make the necessary repairs.
On the island of Luing, 94 homes remained without power until conditions improved enough to allow engineers safe passage.
Further bad weather, including high winds, is expected to affect the north and north-west throughout the week.
Airline steps in to fly pupils to Celtic Connections after ferry cancellations
Island pupils will take to the air today to make sure they get to Glasgow to appear in Celtic Connections after ongoing ferry cancellations.
Flight operator Loganair came to the rescue following a plea by Western Isles Copuncil's chairman of transportation and infrastructure, councillor Uisdean Robertson.
A chartered flight will make two trips to Glasgow today, via Stornoway and Benbecula, taking more than 70 pupils to the prestigious event.
They include members of the Dìleab: Air a' Chuan project, Willie Campbell & Band, Ceitlin Lilidh and Pàdruig Morrison with the Sgoil Lionacleit Pipe Band, the Sir E Scott Choir from Harris, singers and musicians from Castlebay Community School in Barra and the Nicolson Institute in Lewis, as well as other island musicians including Iain 'Costello' MacIver and Neil Johnstone.
Mr Robertson said: "When we heard that ferries were likely to be cancelled during the week due to the high winds, it was feared that they might not make it to Glasgow for rehearsals and the concert itself.
"When Loganair heard of the dilemma facing our pupils they readily offered to provide a plane."
Kay Ryan, chief commercial officer at Loganair, said: "We know how important this event is for them after all the hard work they have put in and we hope they have an amazing time at Celtic Connections."
Rhona Johnstone of Dìleab, added: "Playing at a world renowned festival such as Celtic Connections is a tremendous opportunity for the pupils to showcase their talents.
"We are extremely grateful to Loganair for their assistance to make sure that everyone gets down in time to meet up and rehearse together."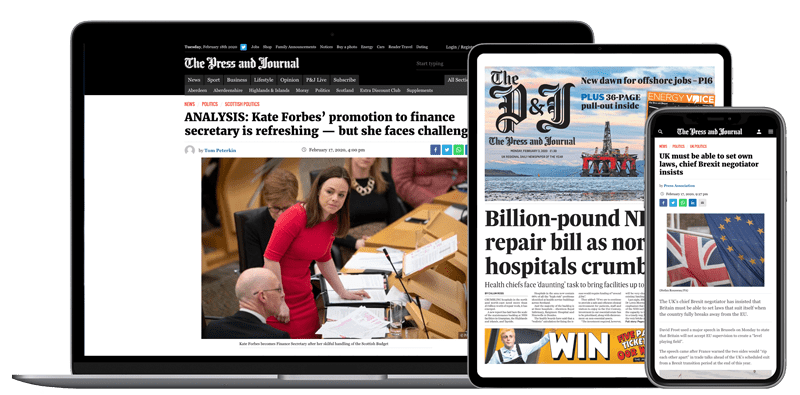 Help support quality local journalism … become a digital subscriber to The Press and Journal
For as little as £5.99 a month you can access all of our content, including Premium articles.
Subscribe