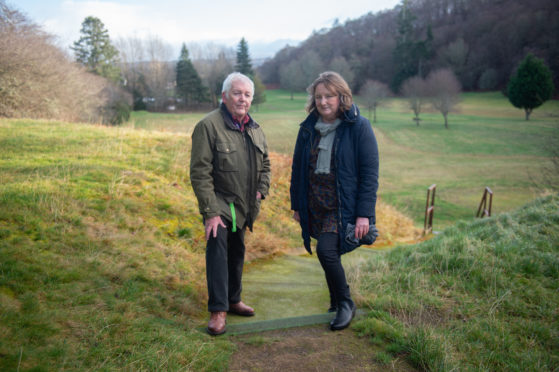 A controversial piece of public art which could not be installed in Inverness because of health and safety regulations is now to make an appearance in the new Torvean park.
The concrete and iron viewing platform is part of Highland Council's controversial Riverside Art project. known as Rest Space, which was to have been installed on the riverside in Bank Street.
Preparatory work was undertaken, including digging up the pavement outside Johnny Foxes, but the project was abandoned after a change in waterside health and safety regulations.
The concrete and metal platform, originally one of four proposed at a cost of £40,000, has been resting in in council storage ever since.
Protest group Open Ness says questions remain over how just one piece has come from a budget for four, while safety concerns have resurfaced as the platform is once again to be located near water in its new site – near the city's new Suds biodiversity ponds.
Campaigner Helen Smith said of the tower: "They were simply looking for a place to get rid of it and park it somewhere.
"And as with the Gathering Place (a now abandoned project to create a giant see-saw style attraction on the river Ness) they have failed to think about accessibility, saying public art doesn't have to be accessible.
"It's another example of the shambles of this project."
Inverness West councillor Bill Boyd is similarly unimpressed and said: "Cheekily it has been badged as a windfall opportunity, at no cost, to be installed as a feature of the new park.
"There is no mention of water safety any more, while its stated purpose is to give a different view of the surroundings.
"By the way, there is a natural hill within 30 paces. You couldn't make it up."
Highland Council says discussions are underway with the West Link community liaison group and final siting and location design details are being prepared for presentation to the group at its next meeting.
A council spokesman said: "The art piece is planned to sit as part of the new public park planned as part of the West Link development.
"It is made of robust materials which are designed to have minimal maintenance requirements.
"This will be included within the general remit of the council and within the overall responsibility of the Inverness common good fund."
Councillor Ron MacWilliam, who has long campaigned for greater transparency in the Riverside Art project, said of the Rest Space platform: "We now know that it should never have been commissioned in the first place as it was in breach of the government's drowning prevention strategy.
"How none of the people involved thought about that is unclear.
"This structure has been gathering dust at a civic depot for the past few months, so clearly it has been proposed to dump it at a convenient new location in a last-ditch attempt to spare the blushes of those who commissioned it."
The council says the platform will be installed in its new site by the West Link Stage 2 contractor this spring.