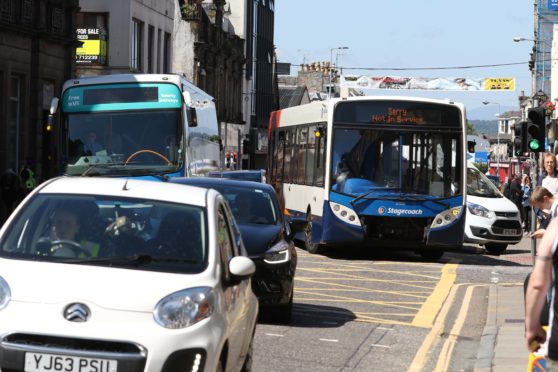 Calls have been made for low emissions zones to be implemented in Inverness after the city's Academy Street was found to be one of the worst air pollution offenders in Scotland.
Friends of the Earth Scotland has ranked the route as fourth on its national list of streets blighted by dangerously high nitrogen dioxide (NO2) levels.
After plummeting air quality during 2019, Academy Street features on the list for the first time, with the group branding its potentially toxic fumes "shameful".
It said the levels recorded suggested Inverness was going backwards and branded its transport system "unsustainable"
The environment campaign group found the street had exceeded the European Ambient Air Quality Directive legal limit of 40 microgrammes per cubic metre of NO2.
The prominent street, which provides access to the city's train and bus stations, measured at 43.32 microgrammes per cubic metre – a rise of 5.56 on the figure recorded in 2018.
Air pollution has been attributed to serious health conditions including asthma, heart attacks and strokes and is estimated to cost the Scottish economy £1.1 billion annually in days lost to sick leave and strain placed on NHS services.
Campaigners claim Academy Street has a concern for many years and that the illegal pollution levels come as a result of "years of enormous government funding for road schemes" and the "failure of private companies to provide reliable, affordable public transport".
Friends of the Earth Scotland air pollution campaigner Gavin Thomson described the figure as "shameful" adding that it indicates "a step backwards for Inverness".
He added: "Our transport system is unsustainable. It is harming our lungs, and worsening the climate emergency
"Highland Council should consider a low emission Zone for Inverness while introducing other measures to reduce car use in the city."
Inverness central councillor Bet McAllister said she was "disappointed but not surprised" – adding that she backs calls for low emission zones.
She said Highland Council is in the process of introducing measures to promote more sustainable travel on Academy Street for walkers and cyclists.
"We want people moving into the new flats there to be able to open their windows to fresh air rather than harmful fumes and we will be working to lower emissions for the benefit of all," she added.
SNP MP Drew Hendry added: "This is a timely reminder that Academy Street has been both a problem and an untapped opportunity for many years.
"It ought to be a gateway street, especially for visitors arriving by rail and bus at both stations and that is what it must become.
"I've no doubt that, while welcome, the major development and regeneration work that has been undertaken in recent years and the accompanying congestion has greatly contributed to the decline in air quality.
"In Academy Street, cars will have to make way for people on public transport, on bike and on foot and we should be making the change now.
"I know that Highland Council have plans for Academy Street but these need to more ambitious."
At present, taxis are crowding Academy Street due to the closure of the prominent Castle Wynd taxi rank, with representatives of the Inverness Taxi Alliance warning just weeks ago that the closure would lead to enhanced emissions in the city as cabs seek spots to collect customers.