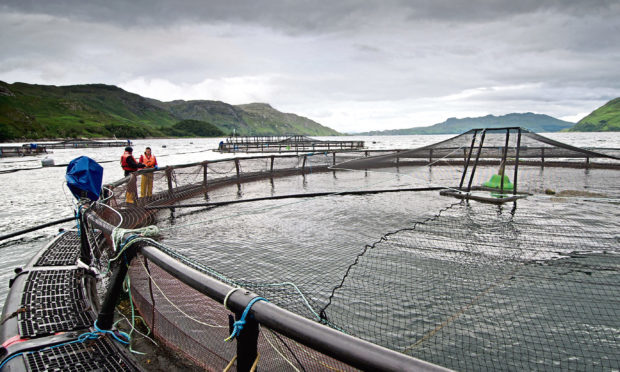 Residents of a Skye township shed tears of emotion in Highland Council chamber yesterday as they defended their coastline against a proposed fish farm- and tears of joy when councillors finally refused to grant the development.
During a hearing and debate lasting six hours, applicant Organic Sea Harvest (OSH) presented their proposals for a farm of 12 400ft cages to grow Atlantic salmon organically just off the eastern coast of the Trotternich pensinsula at Flodigarry in north-east Skye.
Flodigarry has a population of 57 – who are understood to have unanimously opposed the development.
Nearly half the population made it to the hearing, fronted by spokeswoman Emma Beaton, and hotelier Bette Temming.
The objectors applauded when Ms Beaton and Mrs Temming finished their presentations passionately arguing against the fish farm and for the preservation of their pristine coastline.
On behalf of OSH, James Bromham, a former aquaculture development officer with the council, said that there was an unfulfilled market for organically produced salmon.
Welfare would be improved lower stocking density and by the fast flow of water in an open water site such as the north Minch, reducing the need for medicine to combat sea lice, and preventing effluent build up under the cages.
Sea lice would be further reduced by a system designed to drop the cages to a lower level of water where they are not so prevalent.
OSH, which has OSH, which has two Highland councillors, Alexander MacInnes and Alister Mackinnon as founding shareholders,  planned to create four fish farms along the stretch of coast.
They have consent already in place for two, Invertote and Clunacnoc and the  fourth planned for Balmaqueen, north of Flodigarry
The plan was to rotate production cycles, leaving sites fallow for a year.
The company said there would be seven jobs per site, reflecting their drive to attract and retain young families within the community.
Emma Beaton argued that it was 'naïve and ridiculous' to say this would encourage young families to return.
She said: "There is insufficient evidence for the economic benefits. It's a pristine landscape and the only benefit would be to OSH."
Flodigarry Hotel owner Bette Temming said the unique selling point of her business, the pristine land and seascape, would be destroyed by the fish farm.
She said: "OSH themselves say 15% of visitors are bothered by fish farms.
"So our sales would be down 15%, our investment would go down and three to four people would lose their jobs."
Director/shareholder of OSH Robert Grey said he was disappointed by the decision.
He said: "We've put a lot of time and effort  into this and a lot of people have supported it.
"We'll have to take a bit of time and see where we go from here."