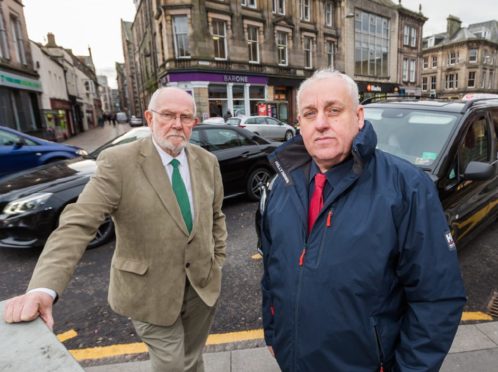 Tighter controls must be introduced on the issuing of taxi licenses to protect the public, Inverness taxi chiefs have said.
The Inverness Taxi Alliance (ITA) believes Highland Council is distributing too many with too little scrutiny.
And it claims the influx of newly licensed drivers is making it "near impossible" to make a living, with their desire to pick up passengers made harder through the reduction of rank spaces around the city.
Highland Council closed one of the main ranks in Inverness at the start of the year as improvements are carried out in the Castle Wynd area.
Latest figures show there are 602 registered taxi operators and 224 private hire car operators across the Highlands who are able to operate the length and breadth of the region.
The calls come after the conviction of 41-year-old Anwar Chowdhury, who raped a woman he picked up in his taxi in Inverness in August 2018.
Inverness taxi driver who raped passenger jailed for six years
ITA chairman Andrew Macdonald, who operates a seven-cab business in the Highland capital, said: "It is near impossible for us to make a living out of this anymore.
"We are all competing for a small number of ranks in Inverness and it's made harder by the closure of Castle Wynd.
"There are too many licenses being issued and the checks need to be stricter to ensure those applying are properly checked.
"We have raised our concerns time and time again with Highland Council but they just don't care.
"Their attitude to addressing our concerns is quite simply appalling."
Taxi drivers have clubbed together and issued a complaint to the ombudsman over the way in which Highland Council has handled the relocation process, with the results due in the coming weeks.
The group claim the Bridge Street rank they have been relocated to, capable of taking just four cars, is not adequate and was deemed unsafe by trading standards 15 years ago.
In response, a Highland Council spokeswoman said the local authority is in charge of issuing licences across the whole of the Highlands and the demand for services for the whole area must be considered.
She added that applicants "must disclose spent and unspent convictions" as part of the application process and an enhanced disclosure is also carried out by Police Scotland.
The spokeswoman added: "We await the ombudsman decision but strongly dispute any claims that inadequate consultation took place."
City manager David Haas added: "We are committed to expanding long term sustainable taxi rank provision as city redevelopment takes place and we will ensure taxi provision is included in any future public transport considerations."
Highland Council have said there are currently 30 24-hour taxi rank bays in the city, with proposals to add a further 10 on Station Lane being considered.
Taxi drivers have also said they sometimes wait as long as three hours for fares after starting a shift.
They claim there are too many drivers – but also a lack of space, which means they are having to drive around town waiting for a space on a rank, adding to pollution on the streets.
Inverness's Academy Street was ranked as one of the top offenders for illegal air pollution last month, taking fourth spot on the list.
Driver Steve Cairns said he waited almost three hours for a fare on Tuesday.
Mr Cairns said: "It is the worst I have ever seen it in January and February.
"The number of licences is just killing it.
"On top of the three-hour wait, I had to wait 20 minutes before getting on a rank.
"It's soul destroying."
Mr Cairns said he is having to work approximately 20% more than he did at this time last year.
He added: "It's becoming quite common now to sit for two hours without a fare.
"It hugely concerns me. I have got costs to cover for the rent of a car, fuel and our tax bills come around in January."