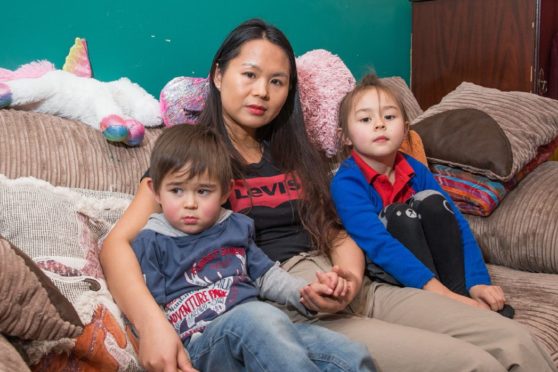 An Inverness mum has spoken of her heartbreak after suffering a devastating break-in at the family home.
Thousands of pounds worth of electronics and jewellery were stolen in the broad daylight incident on Monday.
Tina Haywood, 34, returned home to Culduthel Mains Court after picking her daughter Abby, five, up from school to discover their door unlocked and their property trashed.
Posters on the children's walls were torn down and clothes left strewn all over the floor as the culprits left a path of "complete destruction" in their wake.
Police are now investigating the incident as one of four reported break-ins in the Culduthel, Lochardil and Inshes areas on Monday and Tuesday.
Mrs Haywood said: "The state of the house was horrendous, it frightened me. I had my wee girl with me and she was really scared when I said someone had broken into our house.
"I walked to my bedroom and that was the worst part. Everything from the chest of drawers, my clothing and even my suitcases were all out, my mattress was upside down and turned around.
"It's terrible. I have always felt it's a really safe neighbourhood in a really safe town and I never worry about things like break-ins or anything but this is a total shock."
A laptop, Gucci handbag worth around £1,000, gold earrings and a gold bracelet were among the items stolen as well as hundreds of pounds worth of cash, put aside for Abby and her brother Charlie, three.
Mrs Haywood's husband Chris, 34, said: "The most heart-breaking thing is the kid's reaction. The next day my daughter said she didn't want to go to school because the "police hadn't caught the baddie yet".
"How can you be so heartless, to steal things is one thing but to ruin things that belong to a child, what is that?"
The father-of-two has now launched an online crowdfunding appeal to help raise cash to repair and replace what has been lost.
He thanked everyone for their outpouring of support.
He added: "We want to say a big thanks to everyone in the Facebook community that offered help and to the police for their efforts. They were there quite late at night, the crime scene people. It's been an astonishing amount of support."
Detective Sergeant Christopher Macleod, of Inverness CID, said: "Police Scotland are actively investigating a number of housebreakings where cash and high value items of jewellery have been removed. We are determined to catch those responsible and wish to reassure the public that uniform and plain clothes patrols have been stepped up in these areas of the city."