VIDEO: Team of inspirational speakers lift the lid on their own childhood trauma in Inverness
Cuts to services could wind up costing the public purse more further down the line, a Highland conference about childhood trauma was warned today.
A team of inspirational speakers lifted the lid on their own trauma at the Life Through a Lens conference at the Smithton-Culloden Free Church.
More than 250 delegates gathered to examine adverse childhood experiences like child abuse, domestic abuse, and drug and alcohol misuse.
Among the speakers was Scottish author, rapper and social commentator Darren McGarvey.
Darren won the prestigious Orwell Prize in 2018 for his book Poverty Safari: Understanding The Anger of Britain's Underclass, which drew on his own difficult upbringing in Glasgow.
He said: "A lot of services are being cut or withdrawn and that naturally puts strain on the services that remain.
"The issue that needs to be recognised is that what you gain financially by cutting services, you undermine further down the line because at some point that cost will reappear in another area of society, whether that's the criminal justice system, the health service or with young people in care.
"It would be good to develop a more long-sighted approach but in the current context of electoral politics, that's hard to do."
Staff from Highland Council, NHS Highland, the police and staff across the third sector were in attendance at the conference.
They also heard from former Aberdeen resident Luke Hart, who set up Co-Co Awareness with his brother Ryan following their own family's experience with coercive control.
In 2016, Luke's father Lance shot and killed his estranged wife Claire and 19-year-old daughter Charlotte in a car park in Lincolnshire. He then committed suicide.
The tragedy happened just days after his sons managed to move the women into a secret hideaway.
Luke said: "Coercive control is like a vice which operates over decades, slowly squeezing the life out of you.
"We never understood that what was happening was domestic abuse because our father wasn't violent.
What an honour to be part of this line up of speakers at #LifeThruALens run by @HighlandCPC @HighlandCJP

Sharing our stories because #ourstoriesmatter

@CoCoAwareness @jamesdoch @lokiscottishrap #mattcarey pic.twitter.com/9iimRGPyJ2

— Madeleine Black (@madblack65) February 28, 2020
"It was only afterwards when we were in the police station we saw a poster about coercive control that explained everything we had been living through on a daily basis.
"Hopefully talking about our experience can help people understand it and what the signs to look out for are."
The conference also heard from authors Matt Carey and Madeleine Black, who told their own stories of childhood trauma and how it affected them going into adulthood.
"I became promiscuous because I was simply too scared to say no."

Madeleine Black shares her experience as a survivor of sexual violence as a girl.

— Darren McGarvey (@lokiscottishrap) February 28, 2020
James Docherty from the Violence Reduction Unit also spoke, highlighting the importance of listening and understanding children's stories and the impact they may have on them as they enter adulthood.
Niall MacLennan, chairman of the Highland Community Justice Partnership, said: "The subject matter transcends the important work undertaken by numerous agencies across the Highlands in supporting our vulnerable young people and their journey into adulthood."
Karen Ralston, acting chairwoman of the Highland Child Protection Committee, added: "Only by understanding the impact of trauma do we begin to transform our practice."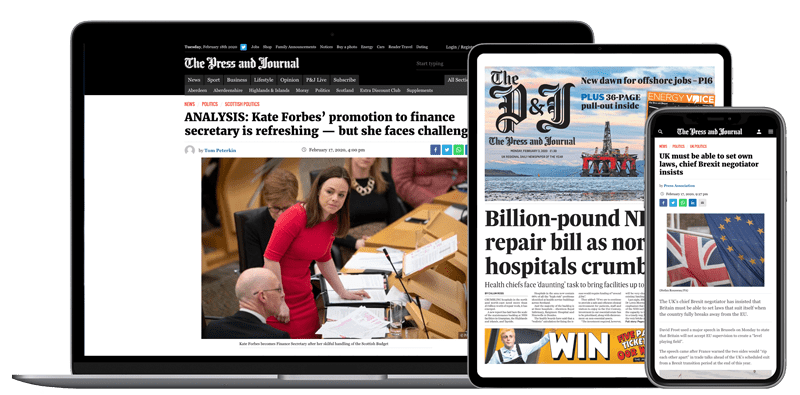 Help support quality local journalism … become a digital subscriber to The Press and Journal
For as little as £5.99 a month you can access all of our content, including Premium articles.
Subscribe