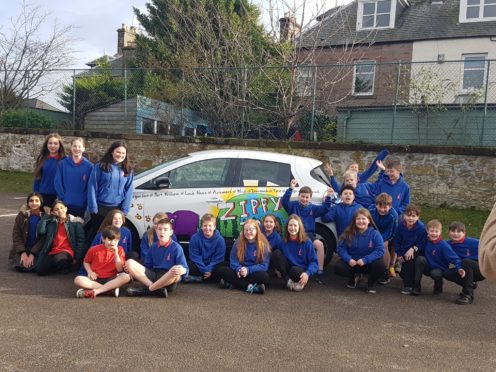 Hundreds of Highland pupils have taken part in a competition to design branding for a council electric vehicle (EV) and council EV charging infrastructure across the region.
Pupils from more than 30 schools took part.
Primary school pupils designed a wrap for  one of the council's EVs, Zippy Zoe,  which can be seen throughout Highlands promoting the shift to low carbon travel.
Anna Myeshkova, the council's climate change coordinator (EV), and Zippy Zoe visited primary schools to spark off  conversations about climate change.
Secondary school pupils designed branding for the council's EV charging infrastructure.
Competition judges were so impressed with the talent and standard of entries received that they chose two primary school winners instead of one: Ben Macgillvray from North Kessock Primary and Aysha Reid from Crown Primary.
Ben created an inspirational quote 'The Future Is In My Hands' incorporated with the images of a globe and his hands.
Aysha's image shows Zippy Zoe travelling around various locations in Highlands.
The winner of the second part of the competition was decided unanimously.
Samantha Flavell (S3) from Millburn Academy created a technically impressive design that captured the essence of Highlands.
Her work will feature on EV charging points and signage.
She said: "I feel honoured my work is now a part of Highland EV history."
Councillor Trish Robertson, chairwoman of the council's climate change working group said: "The future is in safe hands with youth like this."