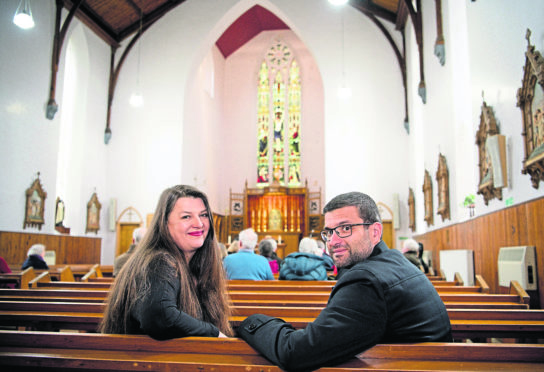 A poignant musical commemoration of a World War One tragedy at sea took place yesterday in Arisaig.
On February 26, 1918, HM Hospital Ship Glenart Castle was torpedoed in the Bristol Channel while sailing from South Wales to France, with the loss of 162 lives.
One of the casualties was Mary McKinnon, a nurse from Arisaig and a member of Queen Alexandra's Imperial Nursing Service.
When her great-niece opera singer Fiona MacDonald saw Mary's name on the Arisaig war memorial, she decided to investigate further.
Ms MacDonald, 55, asked the family about Mary, and was shown an autograph book in which she had collected signatures from grateful soldiers she helped nurse in the war.
She immediately resolved to carry on her ancestor's work and do something to help today's servicemen and women.
In 2013, she founded a charity called Glenart, which is now named Bravehound.
The organisation provides veterans with assistance dogs,  who are trained to help individuals, many of whom have mental health conditions – including post traumatic stress disorder – readjust to civilian life.
And, for the third year running, Ms MacDonald organised the concert in St Mary's Church, Arisaig, using musical contacts from her years in the opera world.
In front of a packed congregation, tenor Patrick Mundy, accompanied by members of McOpera, performed music by composers who died during the First World War, including two songs from Houseman's  A Shropshire Lad, composed by George Butterworth who died in 1916.
Ms MacDonald sang Ivor Novello's Fly Home Little Heart.
She said: "It's so important to remember those who died, now more than 100 years ago, while serving their country.
"While we mustn't forget our history, it's also crucial to acknowledge and offer support to today's veterans whose minds have been shattered by the experience of war.
"We are grateful to Father Stanislaw Pamula [the parish priest for Eigg, Mallaig, Canna and St Mary's in Arisaig] for hosting our third annual event."
Captain Chris McKinley of the Royal Navy said:  "Ensuring that the memory of those who gave their lives is preserved and their efforts recognised, is a key purpose of memorial events and it is all the most heartfelt when they involve relatives and descendants of those who did not return.
"The loss of HM Hospital Ship, Glenart Castle, was every bit as significant as the losses elsewhere, whether at the Battle of Jutland or off the coast of Gallipoli."
Major Pete Curtis MBE of the Royal Marines spoke at the concert and laid a wreath at the Arisaig war memorial.