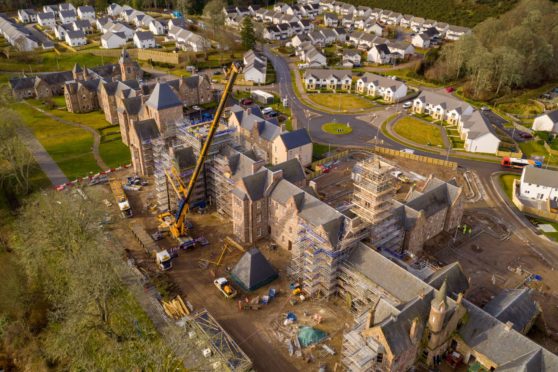 Part of the western horizon of Inverness was restored to its former glory yesterday morning as a specialist 150-tonne crane hoisted a second pre-fabricated tower into place at the Great Glen Hall redevelopment.
The tower is the second of the iconic structures to be returned to the city's skyline after a 13-year absence due to a devastating blaze back in 2007.
The first tower was lifted into place last April as part of the transformation of the fire-ravaged former Craig Dunain psychiatric hospital.
The feat represents a huge milestone for the renovation of the Victorian building as it is the final roof to be placed as part of the £13million restoration project.
The 20-tonne, 65ft-high prefabricated steel and slate roof was stropped up and dropped into place in just over 30 minutes yesterday, with workmen beginning the lift at 11am.
The building had previously been destroyed by fire 13 years ago with the dual towers defining the Westercraigs landscape since as far back as the 19th century.
The prefabricated structure was constructed by Metalwork UK, based in Tain.
Last April, the first of the towers was eventually hoisted into place after more than a 24 hour battle with rising gusts threatening the completion of the project.
James Smith, contract manager for Robertson Homes, expressed his delight at the ease of yesterday's lift, describing the whole project as a "labour of love".
Mr Smith said: "Everything went absolutely spot on and it was perfect.
"It's a £15,000 lift – that's what it costs for the crane.
"It just starts completing the building and it starts to bring the building back to life again.
"It has been a labour of love to get it here but we are absolutely delighted.
"It is one of the most prominent towers in Inverness so when you see it back on it does fill us with some pride.
"It is pleasing to see it get to this point."
Jacqui McPherson, area sales manager for Robertson Homes, said: "With the history behind the building, it was a Victorian building that was built to last and I think the fact it was destroyed by the fire and we are seeing it being brought back to life again is just fantastic.
"It is an iconic landmark looking up from the Highland capital and we are proud to reach this stage."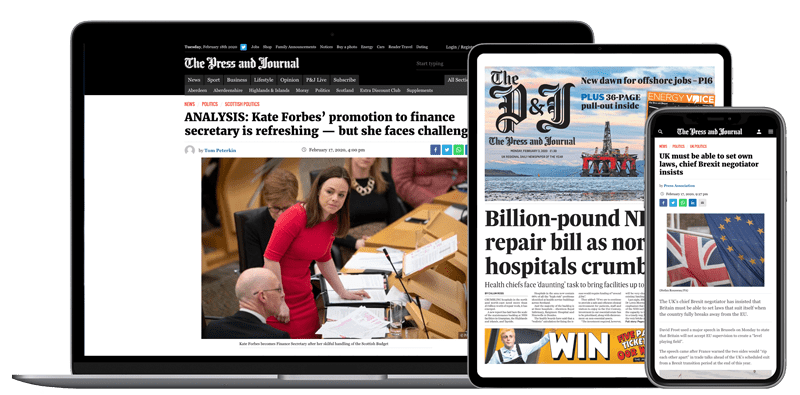 Help support quality local journalism … become a digital subscriber to The Press and Journal
For as little as £5.99 a month you can access all of our content, including Premium articles.
Subscribe