Highland Council has stepped in to safeguard the jobs of 200 staff at its arm's length organisation Eden Court after theatre bosses were forced to take the decision to close due to the coronavirus epidemic.
The organisations will work together over the coming weeks to allocate staff employed by Eden Court into the council's delivery of services as it aims to enhance community resilience across the region during the epidemic.
A 72-hour audit of staff is now underway and will result in bosses at Eden Court assessing the skills and qualities of each member of staff and how these can be transferred to assist in the support of local communities.
Eden Court chief executive James Mackenzie-Blackman said around 75% of the financial makeup of the organisation was reliant on ticket sales with hopes that a voucher scheme for rearranged shows would allow the organisation to continue to support itself financially.
Mr Mackenzie-Blackman said: "Securing jobs for our workforce is critical and I feel very confident that I have got a work force who is community focused, community minded and passionate about making sure we all get through this very unique situation together.
"This is a very unique opportunity because of the agreement we have come to today by providing vital services to the council in hopefully very innovative ways and I am really confident staff will get behind this and offer all sorts of opportunities that we don't know yet.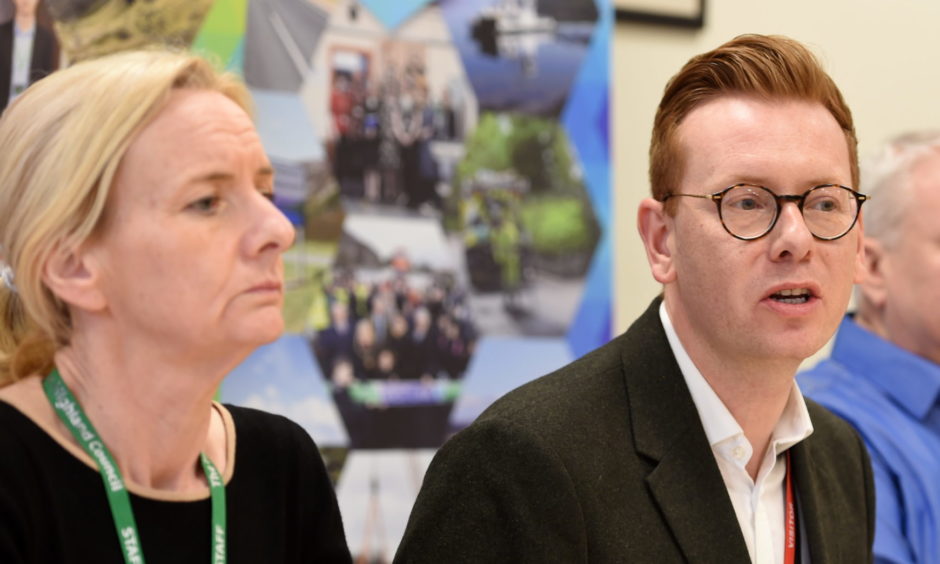 "There isn't a more natural partner for us to collaborate with than Highland Council at this time.
"Eden Court is at its best when it is open so closing the doors tonight will be really sad for us but there's hopefully some light at the end of the tunnel.
"We will be back. We will be back bigger and stronger than before and we are just not sure yet when that will be."
Highland Council chief executive Donna Manson welcomed the opportunity for the local authority to "take responsibility" and looked forward to the collaborative working approach.
Earlier today she said: "The council is accepting its responsibility as an arm's length organisation. We own the building and we have a responsibility to staff.
"We do have responsibilities and we are going to fulfil those responsibilities and we are going to get the benefit of all those skills.
"The intention is through a variety of ways we will work together to maintain the financial sustainability at Eden Court.
"The key benefits of the arrangement is the protection of over 200 jobs across the Highlands. There is a huge value in terms of how our children are going to benefit in the months ahead in terms of impact on having an opportunity to take a cultural strategy into the route of education using the skillset of staff.
"Even our elderly population are going to benefit because we can be thinking about how we can use the skills to go out into communities as communities recover to bring wellbeing, to bring resilience and to bring a bit of cheer and positivity, so I see this as a fantastic opportunity.
"It is very important to us that we see Eden Court as our responsibility.
"High Life Highland and Eden Court we do have a unique arm's length responsibility and we have to see that, in these circumstances, we are working closely in everything that we are doing and this is one of those times the council doesn't work alone and we are working with our partners.
"As a three we are working together, just as we are working with NHS and the police and this is an extension of that.
"We are working on all eventualities and working together on what we need to do.
"What partners in the Highlands are seeing is this is a unique situation and we need to be able to provide resilience at every opportunity."
Don Robertson, chairman of the Eden Court board, said: "As a board we were meeting just over 24 hours ago and the situation at Eden Court looked quite precarious and this arrangement with the Highland Council we are extremely grateful for.
"I couldn't believe it when I first heard it – I thought it was too good to be true – but as chair of the board I'd like to thank Highland Council, and as a regular user and patron of Eden Court.
"The future of this organisation is very important."