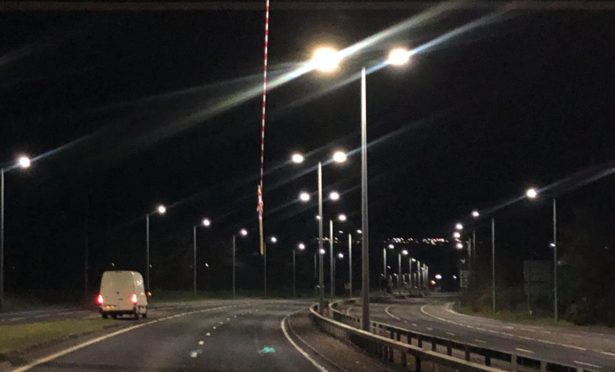 A delivery driver said he narrowly escaped serious injury after he discovered a wooden stake dangling onto the motorway from a bridge in Inverness.
Alex Strang, from Alness, was heading south to Glasgow on the A9 at around 3am when he saw an object hanging from an overhead footbridge.
Concerned by what he saw he decided to pull over to investigate further.
He said he was "shocked" when he discovered the item to be a wooden stake dangling by hazard tape and reported it to the police for fear it could cause a serious accident.
The 35-year-old said: "The worrying thing is it is the perfect height for vans and lorries.
"Luckily enough I was in the inside lane so I stopped and phoned the police.
"I went back in my high vis after pulling over to see what it was and I just couldn't believe it.
"Thankfully there wasn't much traffic on the road at that time.
"It is potentially endangering life and is sheer stupidity. I would never have thought anything like this would happen in Inverness."
A police spokesman said the incident had been reported and inquiries were ongoing to trace the people responsible.
Mr Strang added:"Hopefully they catch this lot because next time it might not just be a stick.
"If a 44-tonne lorry doing 56mph came across this the consequences could have been fatal.
"It's not a nice thing to think about.
"The only saving grace and blessing of this was the time of day and the roads being quieter."