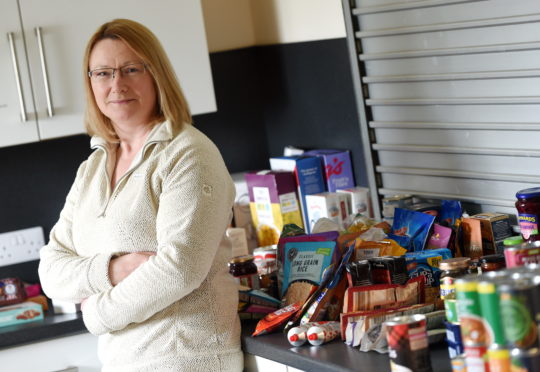 A village near Inverness has solved the problem of how to get essentials under Covid-19 regulations when you don't have a local shop.
Kirkhill community centre has established a community cupboard stocked with donations of non-perishables, bread and milk.
The centre opens to coincide with the outreach post office opening hours on Tuesdays and Fridays between 10am and 1pm, and on Wednesday afternoons between 2pm and 4pm.
Residents can leave donations in a barrow outside the centre.
A freezer donated by Gordon's Caterhire of Inverness is also stocked with ready meals from local suppliers like Highland Hog Roast.
The message to users is "donate what you can" so the team can buy more stock, and if you cannot afford to pay, then "it's a gift".
The centre's treasurer, Brenda Dunthorne, said the idea is not only to help those who can't get out and about, but to help prevent people from having to travel to Beauly by bus to pick up essentials.
She said: "When the crisis began we sent out a postcard offering help which was really useful in picking up new connections.
"We discovered there are people without internet who had no idea there was support available.
"We're also supporting people in the wider community council area."
The volunteers also collect and deliver prescriptions in response to emerging demand.
Mrs Dunthorne said: "We had to close the Kirkhill community café where a lot of older folk used to come for soup and a scone.
"Our concern is that if they're not getting this anymore, they might not be getting enough nutrition and we wanted to close that gap."
The centre has signed up with Fair Share to enable donations from supermarkets to come into the community cupboard.