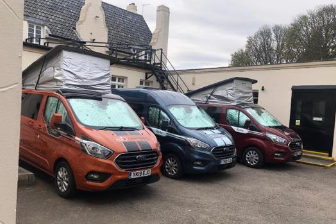 Dedicated staff at an Inverness care home are preparing to live in rented campervans at the building in order to limit their contact with the outside world.
Isobel Care Home in Inverness looks after 28 older people.
With positive cases confirmed in multiple care homes across the country, manager Victoria Connolly is appealing for staff to remain on-site to provide "live in care" for those most at risk.
Three campervans have now been rented out to serve as accommodation for 13 employees who are leaving their families behind to live at the back of the home.
Mrs Connolly said: "Our main priority is to keep our residents safe.
"We have been on lockdown here since March 20 so there has been hardly anyone coming in, no visitors at all.
"It's just been essential staff and we just want to take it one step further so we know they are safe."
Councillor Bet McAllister, who has a relative living at the home, said: "It's a very good idea, and I am hoping that other private care homes will take that on board.
"The people that are working there are going to do this for three weeks and it means their families will be safe as well – because they must be worried about workers bringing anything home to them.
"Fair play to them. I am absolutely delighted because I have a relative staying in there. They have been in there for around two years and it's a fantastic place."
Management intend to review the situation in three weeks, to see how it is working.
David Henderson, chairman of the board of trustees, added: "We are deeply appreciative of the commitment that the staff are showing here."