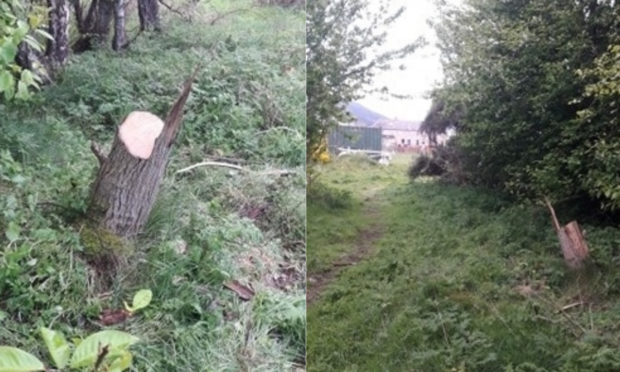 Police are investigating after a tree was chopped down and "stolen" from a Highland beauty spot.
The culprits hacked down a tree on the central path at Merkinch Local Nature Reserve.
Project manager Caroline Snow said it was disheartening that vandals would target an area that conservationists are working hard make flourish.
She said: "It really disappoints me.
"You would hope that for the greater good people would do the decent thing and just leave things be but I don't understand why they would be cutting it down. It's not common land, it's not there for everyone to go and help themselves to because if everyone did that it wouldn't be there for the rest of us.
"I just think it's a great shame."
She also warned that such acts would have a detrimental impact on wildlife sheltering in the reserve during nesting season.
"There are so many nesting birds," she said. "Some of them are fledging some of them are still sitting on eggs. I don't know if that tree had anything nesting in it but it's a disturbance to the other birds as well. "
Dozens of outraged locals have condemned the vandalism online, with some reporting further damage to other trees at the reserve.
https://www.facebook.com/permalink.php?story_fbid=2668634206691420&id=1724636544424529&__xts__%5B0%5D=68.ARCkZJMtLr3M6lu2k9STsvRiso81EN3cSIPbpfuS9h_GPpCgRDTfs3JlAFhVPYxgEYqn2D4TBB1eWa_xV9rm8nGiWet6rwf65eg8KETnK_ZpKG8-kR683O1fhYRudZn-fPcKfy6pssUxXjODt0G1ptlBwOQxSLW7QQqXaMMZyg05SyV3EurwdpR4J39KK0GecO2cnSprgQG8CfkVWxBBnfxAC-mlqqtFPcSTIlFrezjfzkoxfl6SQhngFdy-FftzlfQ2LMcilceyuDTBzhpT0t712DE8tFIadWWYdGDppy0o2HtQKqyiGrt1s6tgzEm4nI4RBMaoyUoeogVxFGG7P6GJdsg-&__tn__=-R
A police spokeswoman said: "We received a report on Thursday, April 30 that trees had been stolen from a nature reserve on Kessock Road, Inverness.
"Inquiries are ongoing."
The incident happened just months after the nature reserve was battered by Storm Brendan, which caused the pond to burst its banks and flood the nearby paths.