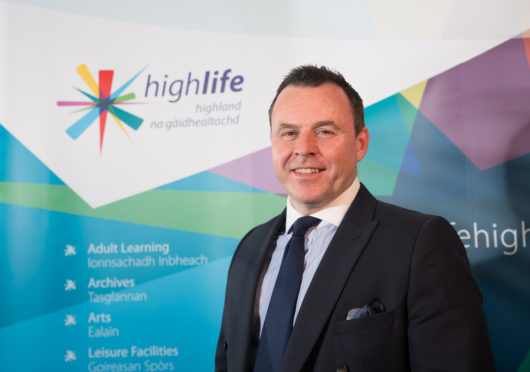 The organisation responsible for leisure centres, libraries and museums across the Highlands has vowed to keep venues open after lockdown, despite fears it could lose as much as £6 million.
High Life Highland (HLH), which runs the facilities as an arms length organisation for the council, is projected to suffer major losses as people are unable to visit the many buildings.
Highland economist, Tony Mackay, said HLH showed a loss of £3.4m in its latest financial accounts and estimated that a black hole of £6m from lockdown "could be realistic".
He speculated that the situation could result in the local authority cutting HLH's budget, leading to the closure of "many" facilities and widespread job losses.
But the body's chief executive, Steve Walsh, said every measure was being taken to secure its future.
He said: "Thanks to our strong relationship with Highland Council, and its guaranteed support, in conjunction with our successful application to the government's coronavirus job retention scheme, and confirmation of ongoing backing from Sport Scotland, this means HLH doesn't have an immediate cashflow issue."
And Mr Walsh thanked monthly subscribers for donating to the charity during the pandemic.
He added: "This will support the ongoing work as HLH moves towards reopening our sites currently closed in line with social distancing guidance."
Council leader Margaret Davidson predicted that HLH could face an "extremely difficult" future.
She said: "There's a huge loss of income for HLH because all their facilities have had to be closed, and reopening will be very difficult because of social distancing.
"As we go forward, all of our structures may change.
"We'll have to take things a step at a time, see where we're going to be in three months, six months time, as we come out of lockdown see what might be possible."
Councillor Tom Heggie, vice-chairman of the education committee and an HLH director, said the body's contribution to the health and wellbeing of the Highlands would be needed more than ever once normality begins to resume.
He praised the work of HLH in his own constituency of Nairn, saying the charity had been used as a model by neighbouring Moray Council.
Mr Heggie said: "Mitigation for its current losses will be at a high cost and depends on how long lockdown lasts.
"The £6m sum could be a worst case scenario."
Another HLH director, councillor Linda Munro, added: "I know many people are beside themselves with worry over elderly parents, children with compromised immune systems, job losses and mounting debts, uncertainty is not something we cope well with.
"Against this backdrop High Life Highland facing a shortfall of £6m will not be a priority for most people, and that's perfectly understandable.
"However, HLH is a major employer in Highland, an economic driver and a committed partner to Highland Council.
"The sustainability of HLH matters greatly to Highland Council, our communities and partners for it delivers many of the services we need and value. This dark time will pass."
Meanwhile, Highland Council set out its plans to use technology to take its committee meetings online after prompting controversy by staging limited gatherings behind closed doors.
The council has faced accusations of secrecy and lack of transparency after its meetings were cancelled and decisions made privately.
Yesterday, chiefs announced a special meeting of the council would take place on June 25 using technology to allow remote participation.
The meeting will consider a report detailing the urgent measures taken and powers exercised in response to coronavirus but the focus will be on the council's recovery.
The authority is also reviewing its emergency procedures for making planning-related decisions and says it wants to hold meetings of its north and south committees "as quickly as circumstances will allow", likely in a virtual meeting.
The regular planning review body will go ahead by video conference on Tuesday.
Councillor Andrew Jarvie chairs the licensing committee said he expects to have technology in place for its next meeting in June.