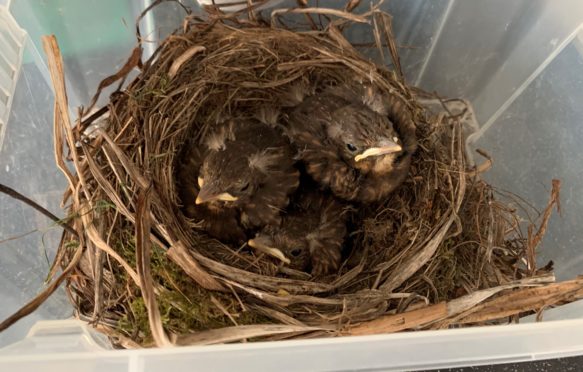 An Inverness firefighter has pledged to hand rear three baby chicks after a horrific dog attack left them orphaned and vulnerable.
John MacDonald, deputy assistant chief officer for the fire service, first saw one of the young starling chicks nestled down at his garden fence on Monday.
Concerned for its welfare, he decided to investigate leading him to discover the damaged nest behind the boundary fence.
After speaking with fellow neighbours, the firefighter heard how a dog attack had damaged the nest and killed the chick's mother.
He explained: "I was standing at the kitchen window and I noticed the wee bird at the bottom of the fence and thought that looks like a young bird, is it injured or hurt.
"I looked in behind the fence and could see the nest. I had a closer look and realised there was two babies in the nest and sadly mum had been caught by a dog.
Rescued these wee guys today after the nest was attacked by a dog & sadly mum received fatal injuries. I called @ScottishSPCA who attended & provided some great advice on caring for them. I am now determined to hand rear them. First feed done & bellies full #lockdowndistraction pic.twitter.com/EQBfFyJyIa

— John MacDonald (@JMacDonald_SFRS) May 11, 2020
"If the wee chick hadn't crawled under the fence into my garden, I wouldn't have been any the wiser and they would have perished."
Mr MacDonald retrieved the nest and gave the three chicks shelter at his home in the Culduthel Mains area as he sought advice and guidance from the Scottish SPCA.
Following a visit from an inspector and hearing about the challenges the charity faces amidst the lockdown, the Inverness firefighter decided to do his part, by pledging to hand rear the chicks himself.
The deputy assistant fire chief is now feeding the baby starlings raw mince mixed with sugared water every two hours during daylight in preparation for their release back into the wild.
Mr MacDonald said despite their ordeal, the chicks are "getting stronger" as they begin to flutter round the nest flapping their wings.
He added: "They are voracious eaters, they have some appetite. They are constantly wanting food.
"All three of them appear to be healthy.
"They are certainly trying to stretch their wings out if they come out of the nest. I am trying to encourage them to feed themselves as much as they can so that they can become resilient and self- sufficient when the time comes to fly the nest.
"It will be great to see them fledge and fly off and go and have normal lives, which they wouldn't have had if we hadn't rescued them."
He thanked the charity for all their support.
He added: "The Scottish SPCA have been great. They were really, really quick to respond when I phoned them asking for advice and were extremely helpful so I was very impressed."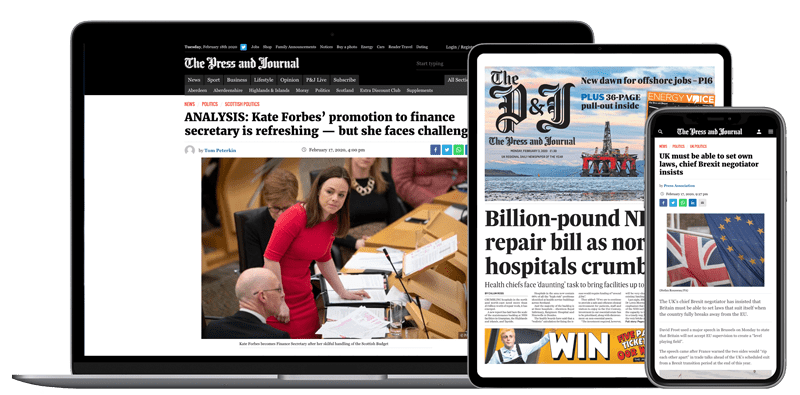 Help support quality local journalism … become a digital subscriber to The Press and Journal
For as little as £5.99 a month you can access all of our content, including Premium articles.
Subscribe