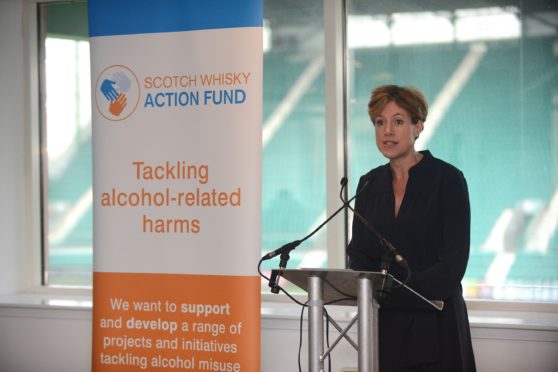 An Inverness-based addiction charity has received an £11,000 boost to assist with its family project.
Addictions Counselling Inverness (ACI) offers free counselling to family members of those receiving support for alcohol-related issues in the Inverness, Nairn, Badenoch and Strathspey area.
The cash comes from a fund created by the Scotch Whisky Association (SWA) to tackle the effects of alcohol misuse.
The charity offers up to 12 free one-hour counselling sessions per person, providing support to loved ones during their family member's recovery.
The award of £11,189 from the Scotch Whisky Action Fund comes after a successful first year where 18 people were granted assistance to battle addiction – 33% above the targeted number.
Funds granted via the fund also allowed for the creation of the project in Inverness 12 months ago.
Sharan Brown, Development Manager at ACI, said: "We have made a real difference to the lives of so many who are incredibly appreciative of the support we offer and the partner organisations we work with believe our two-pronged approach to counselling is important in the overall efforts to tackle alcohol addiction."
Scotch Whisky Association has pledged to commit £1million through the fund by 2023 with more than 50 awards haven already taken place.
Karen Betts, Chief Executive of the SWA, said: "Now more than ever, it is hugely important to be supporting the projects that help to tackle the misuse of alcohol at a community level.
"It has been inspiring to see the impact that this initiative has made, and we are pleased to offer ongoing support via the Scotch Whisky Action Fund, allowing them to build on their excellent work and increase their positive impact."
Dame Joan Stringer, chairwoman of the decision-making panel for ongoing funding, said: "This project has achieved very positive results since first being awarded the funding, making a measurable difference to the communities and the groups it works with.
"Continuation funding is vital to ensure that their impact is ongoing amid unprecedented circumstances, and we look forward to seeing their progress over the coming year."
Applications to the Scotch Whisky Association fund are open for the 2020/21 period, with the deadline for submissions on July 2.
Applications can be submitted via the Foundation Scotland website.