A private rocket company has successfully completed a dry run rocket launch in Easter Ross, the first of its kind in the country for half a century.
The test saw Skyrora's Skylark-L perform all actions of a launch while not actually taking off.
Skylark-L is a launch vehicle for small satellites.
The move paves the way for the rocket to launch from a British spaceport within months, with the company's  low earth orbital rocket, Skyrora XL  planned to follow in 2023.
Skyrora built a mobile launch complex in five days at Kildemorie Estate near Alness for the test.
It is the company's first sub-orbital flight vehicle, able to reach a height of approximately 62 miles up to the Kármán Line, the boundary between earth's atmosphere and outer space, with a payload of up to 60kg (132lb).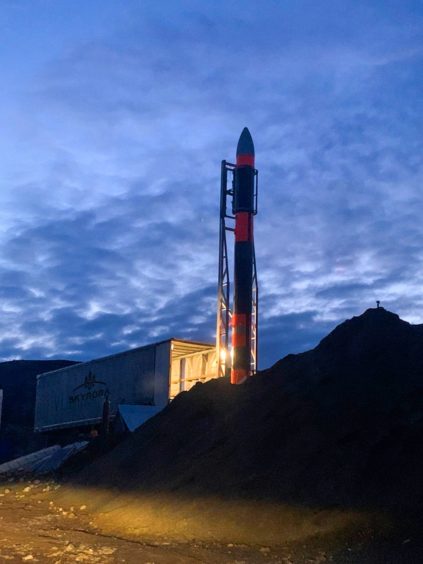 It is fuelled by a combination of hydrogen peroxide and kerosene, but when commercial, the company plans to use its own Ecosene, an equivalent kerosene fuel made from un-recyclable plastic waste.
The operation was carried under strict social distancing measures, said Skyrora's chief executive officer, Volodymyr Levykin.
"We are now in a full state of readiness for launch. It is this milestone that is the start of the UK's new space revolution, a fantastic example of the potential of what the UK space industry holds for future."
Operation lead Dr Jack-James Marlow said: "This is the first time a launch vehicle of this magnitude has been tested in the UK for many years and I am very proud of my team for achieving this.
"The vehicle is now ready for flight and we are one step closer to putting the UK back into space."