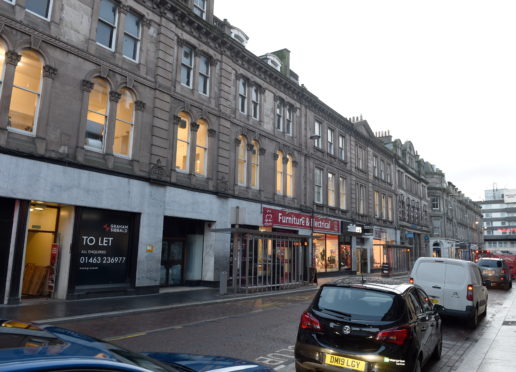 Major plans to transform a former shop in the centre of Inverness into new flats have been approved.
The B-listed old Arnotts store, which was also a House of Fraser, on Union Street will be turned into a mix of two and three-bed apartments with retail space on the ground floor.
Developer Forthpoint Ltd will  create a central courtyard at the site, in an effort to spark a "cafe culture" in the heart of the Highland Capital.
Numbers 33-41 Baron Taylor's Street will be demolished to make way for a new building forming an L-shape with the former shop.
The decision has been welcomed by Inverness Chamber of Commerce (ICC) after earlier fears that a previous deferral might put the project at risk.
ICC chief executive, Stewart Nicol, said: "I would imagine this will allow the developer to start the initial preparatory works ahead of the construction sector being given approval to re-commence activities after Covid lockdown.
"This project has been made possible by the injection of significant private funding and will transform the city centre by providing much-needed housing and a refurbished retail offering in addition to securing some 150 jobs during construction.
"Creation of these jobs will be extremely timely given the impact of the lockdown on that sector."
Inverness Central councillor Emma Roddick, who is on the south planning committee, said she had raised some concerns which had been addressed and welcomed the move to grant approval.
She said: "It is great to see a development application in a conservation area which respects and preserves the existing feel of the place.
"The enhancements this development will bring to Union Street and Baron Taylor's Street are incredibly welcome, as is the much-needed contribution to one and two-bed housing stock in the city centre."
Councillor Ron MacWilliam said: "This new development will save much of the historic frontage of the block whilst modernising with new build flats and commercial units.
"It will also give a welcome new lease of life to Baron Taylor Street and will bring more people in to live and to spend money in the centre.
"It really ticks every box for regeneration and is a credit to the designers and all those who worked on the application."
Swilken Estates owns develper Forthpoint Ltd, and said the approval was 'fantastic news for Inverness'.
A Swilken spokesman said: "We are delighted to be making this investment in the town centre and to be supporting the creation of affordable housing and good quality commercial space to support the retail sector in Inverness.
"The development is due to provide 53 affordable houses and a further six new high street shops.
"We also expect to create at least 140 local jobs during construction and support a wider regeneration of Union Street and the surrounding area.
"Our priority now is to continue to work with the Council to implement the plans we had in place before the onset of Covid-19 as soon as possible and try and make up for the lost time due to the delay to planning consent."