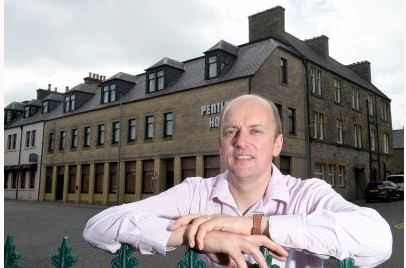 A Caithness hotelier says he will be forced to start thinking about redundancies as the Government furlough scheme starts to dwindle from next month.
Andrew Mackay has 100 staff on furlough from his three hotels – The Norseman in Wick, and The Pentland and Castletown in Thurso.
He said lack of sufficient Scottish Government guidance is hampering any plans to open up his hotels in line with the target date of July 15.
Mr Mackay's 'Caithness Collection' of hotels is heavily dependent- to the tune of 70%-on coach tour business, mostly from abroad.
In the 13 years he has owned the hotels, the coach tour business has grown to three coaches a night at his hotels from April to September.
This year, apart from a handful of UK operators holding out for dates later in the year, that business has dwindled to zero.
"If the government keeps the 14 day quarantine rule, they won't come," Mr Mackay said.
"We were fortunate to get some key worker accommodation during lockdown, and the furlough scheme allowed us to stand still.
"Once it finishes in October, we will have to cut our cloth accordingly.
"It's sobering times when even breaking even is a stretch.
"All our services are supplied locally, from food to laundry so there is a massive effect on the supply chain too."
Buoyant summer trade, and local trade throughout the winter has always given his staff 12 month employment up until now, Mr Mackay said.
He said: "Weddings have been postponed, conferences and events haven't happened, but we won't be able to catch up on two years of business in 2021.
"There's talk of encouraging staycations in the autumn which would be fantastic, if it was safe.
"We worry about the virus spreading, so the government has to sell that message to us locally."