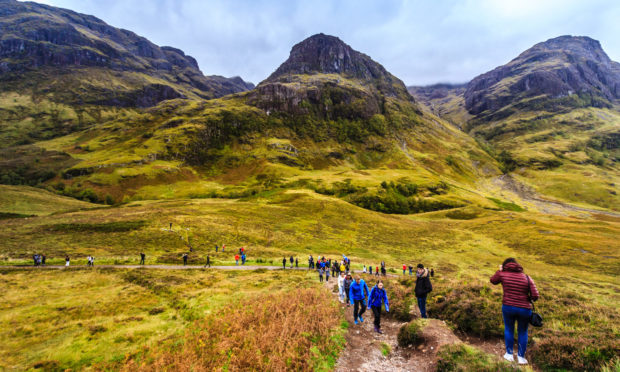 The Highlands are still high on tourists' wishlists post-pandemic, according to recent research carried out by VisitScotland.
It believes that while the summer season has been hard hit by coronavirus, there are signs a strong autumn may be ahead.
And the tourism body has suggested that could be driven by European visitors, who may extend stays beyond the norm as the continent shakes-off lockdown.
Regional leadership director Chris Taylor said the industry would need to progress in a responsible manner but believes there are reasons to be positive.
He said the Highlands remain top of people's to do list in Scotland – and on a par with Devon and Cornwall nationally.
He also highlighted a new emerging trend for tourists to stay longer in one area, rather than move on each day.
A survey of NC500 visitors last month showed they anticipating spending 11 days on the route, compared to nine last year and five when the route started five years ago.
In Lochaber, meanwhile, the average stay has gone from two nights to four.
"There is strong demand for space, landscape and coast and while Inverness is experiencing slower demand, it is picking up," Mr Taylor said.
"As we start to gradually come out of lockdown, this will bring a much needed economic injection to many rural communities in the north of Scotland.
"Looking further ahead, our marketing activity will focus on reminding people what a great country we have on our doorsteps in every season – and we'll be encouraging visitors to travel outwith the traditional summer period, looking to extend the season and ease any immediate pressures."
He added: "We want to take tourism forward in a responsible way and central to that will be communities – they are the people that are both affected by and benefit from tourism.
"It is this balance we have to get right to ensure the experience is positive for everyone, to bring jobs, enhance well-being and develop economic growth."
In a normal year, the Highlands would welcome around 2 million visitors from across the UK, around 500,000 from overseas and some 12 million day-visits.
Mr Taylor praised Highland communities and tourism businesses for supporting one another during the pandemic.
He said: "I've been hugely impressed by, for example, the work in Dornoch, led by the community interest company to develop charters for safe opening, the work by Visit Inverness looking at innovative ways to encourage footfall in local businesses and that in the Cairngorms to engage communities and land managers.
"I have also seen the stunning video to welcome visitors back the Assynt Development Trust has created, Ullapool's safe tourism charter and efforts by SkyeConnect to map which businesses are opening, providing valuable information for visitors and helping to manage visitor demand."