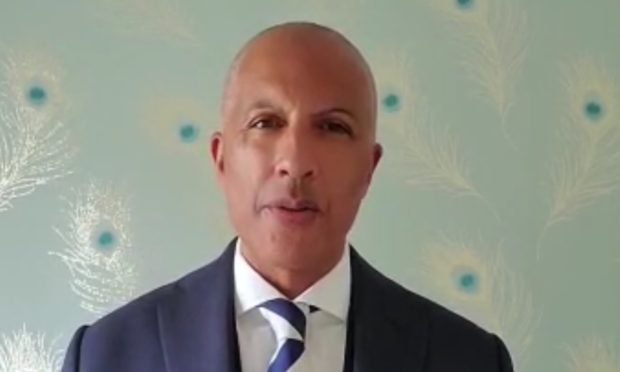 Highland Council's interim education boss, Paul Senior is to leave after three months in post.
Mr Senior's appointment was mired in cross-party and public outrage when it was revealed that his fee was £936 per day, or the  equivalent of almost £250,000 per year.
He was headhunted for the council after the original recruitment process for its chief executive officer (ECO) for education failed to find a suitable candidate.
The council appointed London-based Gatenby Sanderson to widen the search, on the understanding that the use of consultants can cost up to £1,000 per day.
In recent years  Mr Senior, who is based in Hackney, worked as interim director of education, children's and adult services for several English unitary, borough, city and county councils.
He was also a  former Ofsted inspector and government adviser.
He will leave at the end of August, having been appointed at the end of May.
At the time of his appointment he said he was  'looking forward to making the region one of the 'best places in Scotland' for children to learn and develop'.
After a question raised by councillor Andrew Baxter, it emerged that the cost to the taxpayer for Mr Senior was £936 per day gross, five days per week for a period up to 12 months.
The council explained that they would not have to cover Mr Senior's National Insurance, pension or training costs and would not have to pay him if he was on holiday or off sick.
Mr Baxter described the eye-watering fee as a 'kick in the teeth' to head teachers who have recently had their £5m devolved budget removed to support the council's ailing finances.
He said today: "This appointment was made in a blaze of publicity trumpeting how education would be transformed as a result. A
"After all, parents and teachers were told this would help make Highland one of the best places in Scotland for children and young people to learn and develop.
"That was a tall order even for a one year appointment, it certainly isn't possible in just three months.
"Now they claim it was only meant to be temporary to get out kids back to school after the virus lock down. £58,000 is an expensive bill for that task, when surely we already had staff who were more than capable of doing this. "
A Highland Council spokesman said: "The main focus of Mr Senior's work has been planning for the return of education and with the latest announcement by the Scottish Government, plans can now be put into action to safely return children and staff to school in August.
"Arrangements will be put in place for an interim ECO to lead on Education until a permanent appointment can be made, recognising the challenges for recruitment of senior roles within the current circumstances across the UK."
MP Jamie Stone said he wants to see  local talent in post.
"I'm glad this episode is over.
"I hope that the Highland Council is now able to hire someone with local knowledge and who is locally based.
"Having been a councillor on the education committee in the past myself, I feel sure we must have the necessary talent in our area."
Mr Baxter said the recruitment process was part of the outrage around Mr Senior's appointment.
He said: "Everything began unravelling when councillors started asking questions about the secret recruitment process and the costs to the council.
"Then we saw the failure to answer councillors questions at public committees or not bothering to attend at all.
"I think the timing of the announcement to councillors – in an email late at night – was deliberate to avoid any more questions being asked at Thursday's full council meeting.
"This whole saga has been a scandalous use of emergency powers.
"The leadership have serious questions that they must not be allowed to dodge.
"In any other organisation there would be resignations – in Highland Council we will just see a cover up."
Highland Council said at the time of the outcry that had tried to recruit to the new post of Eco Education and Learning on two previous occasions without success.
"An alternative approach was agreed by the council's member recruitment panel in February this year to attract a high calibre candidate with a track record in education leadership and improvement.
"This involved approaching a head hunting agency, a review of the recruitment package and job and person specifications.
"This was noted at the council meeting in March 2020.
"The  decision was made by panel, then the actual interview candidate selection process was a smaller panel due to Covid circumstance.
"This was reported to council in June 2020.
"The appointment was confirmed on 22nd May for a temporary placement on a consultancy basis."
Today, education chairman councillor John Finlayson said: "I would like to express my gratitude to Paul and his team for all their work in preparing for education recovery in these very challenging times.
"As always, the safety and well being of our pupils, their families and our staff remain our priority.
"Officers are working to ensure Highland schools meet the Government's and our parents' expectations on safety measures and we will continue to be guided by Scottish Government advice, with contingency plans in place if we should need them."
Joint SNP opposition leader Ian Cockburn said: "It's unbelievable, it's a shambles and it makes you wonder how this council is being run at the minute."
Former Dingwall Academy head teacher councillor Graham Mackenzie said Mr Senior had co-ordinated the 11 sub-groups looking at the return to school.
He said: "I am disappointment that his appointment was made without people seeking wider opinions or knowledge of his fee.
"What's done is done and it's very important that we get somebody in place, we cannot leave the education service rudderless at this time.
"I'm sure there are a goodly number of appropriately  qualified candidates out there."