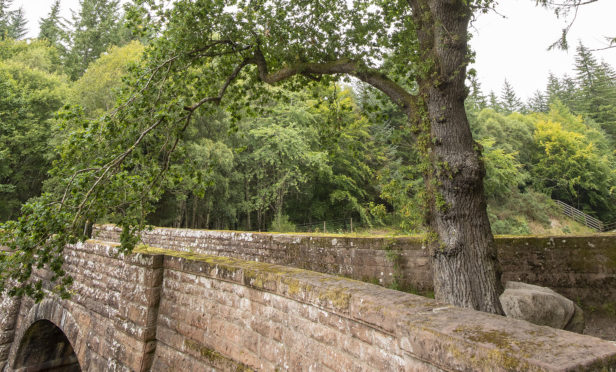 An Inverness oak tree steeped in history is in the running to be crowned Scotland's "tree of the year", after lockdown produced a record number of entries in the annual contest.
The Lord President's Oak, in Culloden Forest, is said to have been a favoured spot of Lord Culloden who was the Lord President of the Court of Session.
Lord Culloden was so fond of the views overlooking the Moray Firth that he would take his wife Mary to sit on a large stone to admire the rugged beauty that surrounded them.
The stone was taken there in 1855 in order to make way for the Highland railway, and it is thought that the oak was planted at this time.
The tree has grown into a magnificent specimen since, with its location guarding the way onto the bridge that forms part of the path to the famous St Mary's Clootie Well which played an important part in pagan celebration into the 20th century.
Members of the public nominated 50 trees earlier this year which have been whittled down by a panel of judges to the final six, which are now being put before the public to determine Scotland's tree of the year for 2020.
The competition has run since 2014 and was won last year by The Last Ent of Affric – a lone elm in Glen Affric near Cannich – which was said to resemble an ancient tree-creature from Tolkien's Lord Of The Rings due to a face-like feature on its trunk.
Carol Evans of Woodland Trust Scotland said: "We felt a definite lockdown effect in the competition this year, with twice the usual number of nominations.
"There was a common theme to a lot of the trees and their stories – of tenacity and hanging on against the odds.
"There were a handful of trees just outside the final six, which had been discovered or were provoking particular affection during people's daily walks.
"Everyone has taken solace from the nature on their doorstep and it has been quite moving to see so many trees that became places to escape, gyms and classrooms.
"Trees were there for us, as they always are when we need to boost our mental health and wellbeing."
The Lord Presidents Oak was nominated by Laura McNally of Forestry and Land Scotland.
She said: "It's just such a magnificent specimen that has so many links with local history and is so well known locally, that I thought it should definitely be in the running for the Tree of the Year.
"And being where it is, slap bang in the middle of the path, it's almost as though it's standing guard as a protector of the forest beyond.
"Maybe it's a close relation to last year's winner…."
It faces stiff competition in the form of a tree believed to have been planted at the University of St Andrews by Mary Queen of Scots more than 500 years ago and an idyllically located oak tree on the banks of Loch Lomond, which has come to be snapped by scores of photographers over the years.
Online voting opens today with the competition, run by Woodland Trust and supported by players of People's Postcode Lottery, delivering a care package to the winning tree worth £1,000 which can be spent on works to benefit its health, interpretation signage or to celebrate it.
Laura Chow, head of charities at People's Postcode Lottery said: "The competition has unearthed some remarkable trees and demonstrates the strong ties and affection communities feel towards them, fostering a strong connection with nature.
"I am delighted that players of People's Postcode Lottery have supported this celebration of the nation's best-loved trees."
Votes can be cast at www.woodlandtrust.org.uk/treeoftheyear and will remain open until September 24.
One lucky voter will also win a £100 voucher to be spent in clothing and homeware store Joules.
The background
The competition has served as getting many people outdoors but also helps protect the trees.
Since the competition's formation in 2014, winners from across the country have been selected – with three previously hailing from the Highlands and islands.
The current holder of the prestigious title, the Last Ent of Affric, is believed to have been damaged some time ago during a great storm and has since regrown, standing proudly as the survivor of a forest that has long departed due to an infestation of Dutch elm disease.
Visitors have been invited to hike to see the famed tree, however, have been urged to used it as inspiration to protect other trees for years to come by reporting instances where they believe trees may be suffering the same fate as the departed forest it represents.
Others, including 2018 winner Netty's Tree in Eriskay, continue to be enjoyed in the manner they originally were, with schoolchildren invited to play in the tree as they have done for the past century.
Former winners have also depicted the rich history of area, with Orkney claiming the title in 2017 as a 200-year-old sycamore, nicknamed as the Big Tree, came out on top.
The tree in Kirkwall was nominated by members of the public and is a much-loved landmark and meeting place for generations of Orcadians.
The Big Tree is thought to owe its existence to Napoleon as wars decimated international trade and delivered a boom for Orkney in trading kelp, with the wealth delivering large gardens from where the sycamore is believed to have come.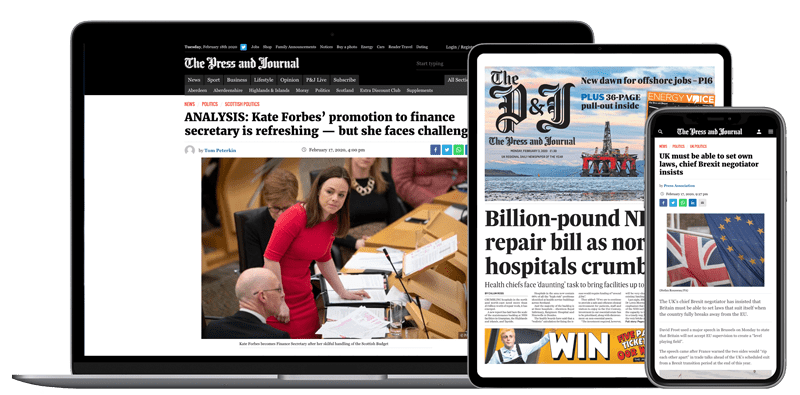 Help support quality local journalism … become a digital subscriber to The Press and Journal
For as little as £5.99 a month you can access all of our content, including Premium articles.
Subscribe