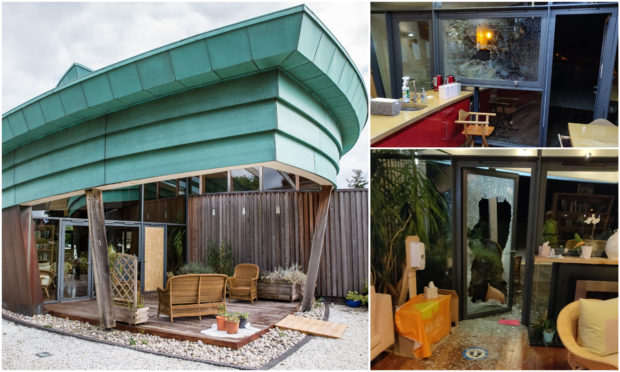 An Inverness hotel has stepped-in to ensure Maggie's can continue to offer appointments to cancer patients after their dedicated base was broken into on Sunday.
Culloden House has offered the charity, which provides care and support to cancer victims and their families, use of a room to enable specialists to continue to see patients while the centre undergoes a deep clean.
Maggie's have been inundated with messages and offers of support, with kind-hearted Highlanders also digging deep into their pockets to help the charity recover from the vandalism.
Bosses devastated as 'mindless thuggery' at Maggie's centre forces cancellation of cancer patients appointments
More than £9,000 has been raised through an online JustGiving page to assist the charity, which has said it was already £240,000 worse-off due to the impact of the coronavirus pandemic.
Andrew Benjamin, Maggies Highland fundraising manager, said: "The response on the back of this has just been phenomenal.
"People have been messaging in and offering help in different ways.
"Our Facebook reach has been 275,000 people and we have had over 600 comments. It is just incredible.
"Since Sunday, after the shock of seeing the centre in the state it was and learning of the damage, we have all just been completely overwhelmed at the response of the community.
"People have been approaching us to ask us if they can support Maggie's in any way and with private messages from people offering to come in and help clean up too, it has honestly just been overwhelming.
"It shows just how valued and important the work we do is to the community.
"Everyone has gone through such tough times with Covid, many facing difficult situations such as being furloughed or out of work, yet people are just so keen to support the community and Maggie's."
Mr Benjamin added: "We have dusted ourselves down and we are working as hard as we can to get the doors open again and hopefully we can do that again sooner rather than later.
"We want to see people and we are delighted Culloden House Hotel has come forward and allowed us to carry on our work.
"They have set up a room for some of our support specialists so we can still see people over the next couple of days.
"That support has been amazing to see."
Lorraine Davies, deputy manager of Culloden House Hotel, said: "We have a close relationship with Maggie's and with it being a local charity we want to do as much as we can.
"We have offered one of our lounges in a bedroom to offer a more relaxing setting so they have got that for a week.
"We felt it was the least we could do at this time."
One Highland businessman has even offered a £1,000 reward to anybody who can offer unique information to track down those responsible for the early morning break-in, where windows and doors were smashed.
Iain Mackenzie said: "Maggie's is an irreplaceable service. The place is amazing and the support it gives people is phenomenal.
"Why somebody would even consider damaging it is beyond belief.
"I really would like to see the person responsible found.
"Everybody knows what the centre is and what it stands for.
"Maggie's Centre has done nothing but good for people and it makes me really sad to think there is an individual in our community who would even consider doing this, never mind carry it out."
Anybody with any information relating to the incident is urged to contact police on 101.
Donations to the JustGiving page can be made at: www.justgiving.com/campaign/MaggiesHlands.