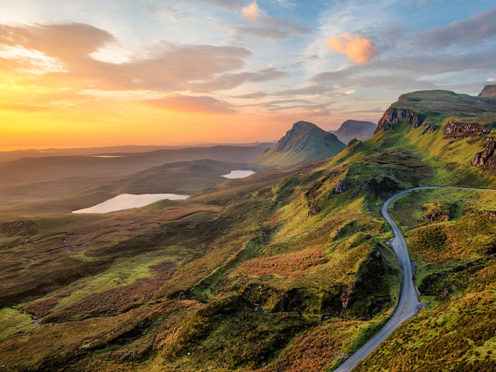 Highland councillors have hailed the announcement of more than £3 million in funding from the Scottish Crown Estate as a "game-changer" for the region's coastal communities.
The funds will be devolved to the council's area committees for distribution across various counties – with sums being awarded according to the area of coast they cover.
Council leader Margaret Davidson said it had it had been a long haul to get to this point, with the process delayed by coronavirus, but communities were ready to get going.
She said: "I must have had half a dozen groups contacting me about when can they get  going.
"We know what the allocations are now to area committees, and it's just a question of doing the bureaucracy so they can get their hands on it.
"The beneficiaries are some of the outlying areas which have had the most infrastructure needs and it will be really good to see them using this as best they can to combat  issues like a lack of tourism and depopulation.
"It's a game-changer for them."
Sutherland receives the biggest share of the funding, at more than £700,000.
Local councillor Deirdre Mackay said: "We are in the unusual position of seeing the highest amount of funding quite rightly coming to Sutherland.
"This is a great opportunity where we will be seeking applications designed to help support our local economic recovery, and the development of projects which specifically support our coastal communities."
Skye and Raasay has the next biggest allocation at more than £500,000, something councillor John Finlayson describes as key to supporting the islands' many challenges.
He said: "This funding will be key to wards like Skye and Raasay to help support the many challenges that exist in terms of infrastructure and also Covid and economic recovery.
"I am sure the funding received will be over-subscribed in terms of applications from groups, but hopefully this will only be the start of regular and substantial funding to come our way to support islands and coastal communities like Skye and Raasay – who I believe do not see enough dedicated public funding coming to them compared to many urban areas."
Lochaber and Caithness both receive more than £400,000.
Lochaber councillor Andrew Baxter said the funding had the potential to make a huge difference in coastal communities across Lochaber from Fort William to Kilchoan and "everywhere in between".
He said: "I am eager to see some of the smaller communities working together to come up with plans that we can back with this money.
"Whether it's improving local infrastructure for visitors to take advantage of the new staycation market or the provision of new homes to keep or attract new young families to the area, I know they will rise to the challenge."
Councillor Allan Henderson pointed out that in his ward of Caol and Mallaig there were very few renewable energy schemes to benefit community funds.
He said: "This Crown Estate money is a huge boost.
"We already have many potential applicants from Corpach to the small isles for this scheme which, like many others, has been held up by Covid.
"Personally I am delighted that an administration fund has been agreed so that it may be possible to identify match funding to greatly increase the number and scope of projects to aid recovery, thereby helping retain jobs in our local area."
Caithness councillor Matthew Reiss said there was huge energy on the ground ready to embark on community projects.
He said: "I hope we can be as flexible and innovative as we can without presenting all the hoops and hurdles as with other types of funding."
Councillor Raymond Bremner said: "This funding will be hugely important to Caithness in the coming months."
"Many areas of the Highlands' communities face funding challenges but we know that outwith the urban and suburban areas, this is a greater challenge.
"These challenges include tackling poverty, tackling rundown town centres, tackling deprived communities and trying to reverse depopulation and increase socio-economic benefit."