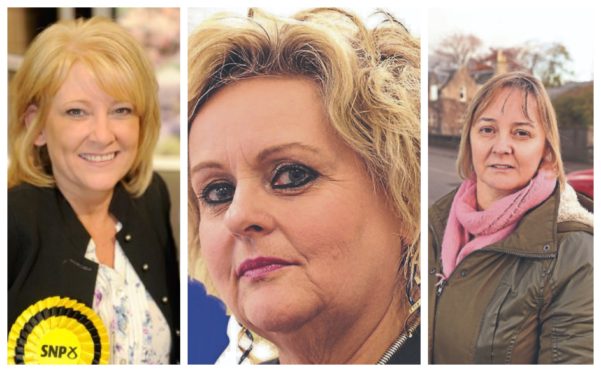 Three Highland SNP councillors have announced they are to leave the SNP party to continue as Independents for Independence.
The shock announcement came from the SNP group's joint leader Cromarty Firth member Maxine Smith, Cromarty Firth councillor Pauline Munro and Nairn and Cawdor member, Liz MacDonald.
It is understood there has been bitter division within the group for some time.
Ms Smith has been leader of the SNP council group for almost six years, latterly in a joint role with Councillor Ian Cockburn.
The two recently announced they were standing down from the leadership, with a new leader to be announced at the group's AGM next week.
Ms Smith said as a team player she is thoroughly disillusioned.
She said: "I am unable to sit back and watch the internal destruction of a party I joined nearly three decades ago.  I have to get out.
"I'm still passionate about independence and will do all I can to assist in this aim but I'll do it under the banner of 'Independents for Independence' rather than being an SNP councillor."
Ms Smith will retain her position as chair of North Planning Applications committee, but is likely to give up her chairmanship of the recently formed Tourism committee.
Mrs Munro, who became a councillor three years ago, said her reasons for leaving were simple.
"I was, as I am now very passionate about independence so will that continue.
"I naively thought we, as a team would work together, but recently it would seem not to be the case.
"I simply want to get on with the job I was elected to do which I may add is hard enough without having to be pulled into internal disputes."
Councillor Liz MacDonald is the SNP's longest serving Highland councillor, with 21 years in the role.
She said: "It has been a tremendous privilege to be the longest standing SNP councillor since 1999, but over the last few years petty arguments within the branch and at the council group level have been an unnecessary and upsetting distraction from my job as a councillor representing and standing up for Nairn.
"I prefer to work in a consensual way but the conflict has been very uncomfortable for myself and others."
Council leader Margaret Davidson, an Independent, said she had huge respect for the three councillors and was aware of the divisions within the group.
"I am really sorry people feel that have been treated so cruelly that they feel they must set up a separate group. I know how passionately they believe in independence."
The resignations coincide with a statement from the SNP Group stating that their two suspended members councillors Ron MacWilliam and Kirsteen Currie, who have had the whip suspended for nearly six months, have been reinstated.
Councillors Raymond Bremner and Ian Cockburn issued a joint statement, saying: "After a long discussion we decided by consensus to welcome both Ron and Kirsteen back to the group.
"It is hoped that past differences can be put aside and we can move forward as a united, cohesive group to drive forward our mutual cause of independence."
Councillor Ron MacWilliam said: "The last few months have been incredibly successful for everyone and some have handled that pressure better than others.
"The pandemic has clearly tested the capacity of those in leadership roles to the maximum. While we may never know the true intentions of the individuals who have decided today to leave the SNP I believe the group will now be operate as a stronger and more effective opposition.
" I am relieved to have been vindicated in my political approach and it is clear that I should never have been suspended from the group to which I was elected. I wish my former colleagues well in their new roles.
Councillor Kirsteen Currie also gave her reaction to being reinstated.
"It's very sad that when the public health situation in Scotland is worsening that some elected members choose to ostracise themselves and publicise their own agenda.
"The voters of the Highlands deserve leaders who can communicate, scrutinise and fight for their constituents.
"Communication from many has been sadly lacking, however, I hope a line has been drawn and that councillors from across the chamber can come together and work for better outcomes for all Highland citizens. "
SNP headquarters has been approached for comment.