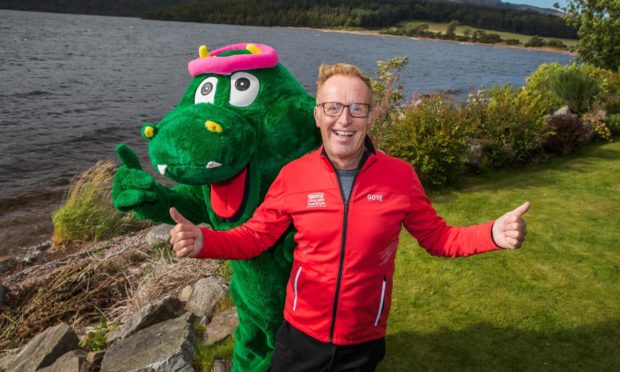 Organisers of the Baxters Loch Ness Marathon are to host a virtual meet to mark what would have been the 19th instalment of the annual event.
Caledonian Concepts, organisers of the Loch Ness Marathon and Festival of Running, are preparing to host an online Runners Café on Saturday following the cancellation of this year's event.
The virtual gathering will take place on social media from 5pm and will act as a replacement for the popular pre-marathon event usually held at Bught Park in Inverness on the eve of the event.
Hosted by race commentator Bryan Burnett, participant will celebrate the best bits of the marathon and reminisce on some of the runner's favourite moments.
The event will also feature an exciting line-up of guests, including sports presenter, Vassos Alexander; Runners World head coach, Tom Craggs; and Baxters Food Group innovation chef, Darren Sivewright.
Malcolm Sutherland, event director of Baxters Loch Ness Marathon, said: "We couldn't let the 2020 event weekend pass without celebrating what we all love about the Baxters Loch Ness Marathon & Festival of Running. Although we can't be there in person, we hope the Runners Café will create a buzz and bring our community of runners together.
"Bryan and our guests will share their Loch Ness experiences and chat all things running with us. We hope you can join us too."
More than 3,500 runners had registered to take part in the marathon upon its return to the Highland Capital this weekend.
However, in light of the pandemic, they made the difficult decision three months ago to cancel the event for the first time in its 18-year history.
Participants registered for this year's marathon will be automatically transferred to the 2021 event, marking the return of the River Ness 10K, the 10K Corporate Challenge, the River Ness 5K and Wee Nessie events.
The festival is now scheduled to make its return to Inverness on October 3, 2021.
Established in 2002, the marathon has become one of the most sought after events in the world with thousands of participants travelling from all corners of the globe to participate.
Last year, organisers of the Loch Ness marathon recorded a record turnout as more than 9,500 participants conquered the course in front of estimated crowd of around 20,000 spectators in October, raising £1.04m for charity.