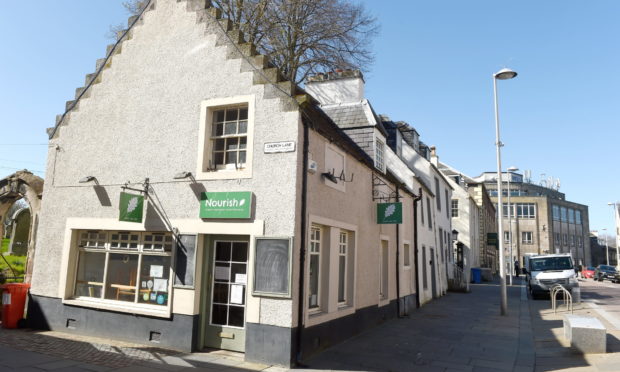 Nourish vegetarian and vegan cafe has announced it will be closing next week, but customers won't go hungry as some of their popular recipes will be shared online.
The Inverness eatery will open one last time on Monday with owner Amanda Brown taking the decision to pursue her passion of complementary therapies.
A social media post addressed loyal customers who have supported the Church Street cafe over the years, it said: "I'm just wanting to let you know that we are opening our doors for the last time this coming Monday, October 26.
"Some of you probably know already that this was coming; it's borne out of me trying to juggle three businesses for the past 5 1/2 years, and feeling like none of them were getting my full attention.
"So, I have decided to let the cafe go to pursue the Therapy side of the business, which is essentially my passion.
"I want to thank you all from the bottom of my heart for all the support and encouragement I've received over the past few years, and particularly this latest difficult period of post-lockdown.
"It's been a wild ride and a massive learning curve, and I couldn't have done it without you all, and without some awesome staff along the way."
The post continued: "PS We're open today (Saturday) 10am-4pm and Monday 11am-3pm, so do feel free to pop in for a chat or a final piece of cake if you fancy!
"PPS I'll be posting some of our most-requested recipes on his fb page over the coming weeks, so that you can enjoy them at home."
Reaction
Social media users where sad to hear the news but praised the works of the cafe team.
Fanfan Olsthoorn said: "This was the best cafe in Inverness… Best of luck to the whole team on new endeavours and thanks for being an inspiration for how I'd like my own cafe to be when I open one in the future."
Therese Poon said: "End of an era. I will forever cherish my nourish days. Good luck with your future adventures xxx."
Caroline Brick said: "I understand and respect your decision but am still heartbroken.
"On my couple of trips per year over from Stornoway, Nourish was always an essential visit.
"I'll remain nourished by fond memories of the lovely vegetarian fare, and calm cafe atmosphere, and wish you well in other endeavours."
Phil Stewart said: "Best of luck with everything Amanda, see you Monday."