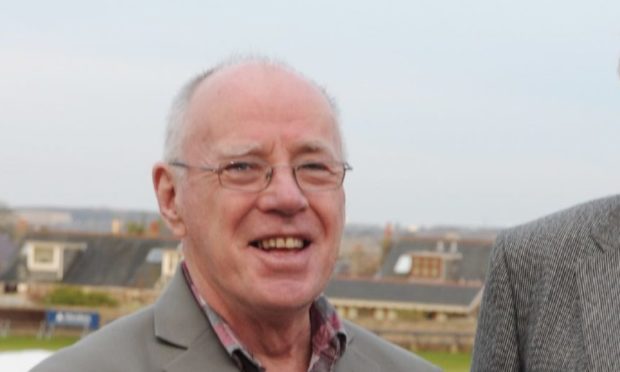 Television legend John Duncanson has been described as the "voice of the news" for a generation of viewers following his death at the age of 80.
Tributes have been pouring in to the popular former anchorman, who was a familiar face to many across the north of Scotland.
Mr Duncanson died surrounded by his family on Sunday in Raigmore Hospital, Inverness.
The Grampian Television newsman came from Selkirk in the Borders and latterly lived at the Queen Mother House retirement home in Inverness.
Mr Duncanson started his career as an actor and then got into television work. He worked in most of the independent television stations around the UK.
This included long stints in Ulster and East Anglia and as presenter on BBC Scotland's evening news programme.
He was a record-breaker at Grampian, presenting the North Tonight Show for 23 years.
During his long career he interviewed hundreds of people including Hollywood actress Bette Davis, Russell Harty, the television personality, and even a boxing kangaroo on the same day as he interviewed members of the Corps de Ballet.
There was a moment when the committed independence supporter was considered to take over the parliamentary seat from Alex Salmond when he left the Banff and Buchan constituency.
Mr Duncanson was well known for his trademark "oidhche mhath" sign-off from the air each night – meaning "goodnight" in Gaelic.
STV North news editor Donald MacDonald described the journalist as a "consummate professional".
Friend Lewis Cedar, a fellow entertainer, shared memories of his pal.
He said: "Not a lot of people know that, after he finished with Grampian, he lived in a boat in Peterhead Harbour for a while.
"He drove that down to the Canary Islands and on the way encountered a storm, he almost never made it.
"He was my best pal. He always would be in touch and he would always help you out. He would go out of his way.
"He came originally from Selkirk. His family used to run the cinema there. His grandfather was the projectionist and his grandmother sold the ice cream.
"His father was in the RAF so he had an interesting upbringing. It was easy for him to move on and meet new people, that gave him a grounding."
SNP MP for Gordon, Richard Thomson, said: "John's was a distinctive voice in broadcasting in the north of Scotland with his trademark 'oidhche mhath' sign-off each evening.
"For many people of a certain age across the north, John's was the voice which delivered the news with authority and professionalism, anchoring North Tonight as well as special reports such as the coverage of the build-up to the Cup Winners Cup Final in Gothenburg.
"John will be much missed in north of Scotland life and my thoughts are very much with those closest to him."
Aberdeen Central MSP Kevin Stewart described him as a "Grampian TV legend," adding: "John was a one off, had time for everyone and loved Scotland."