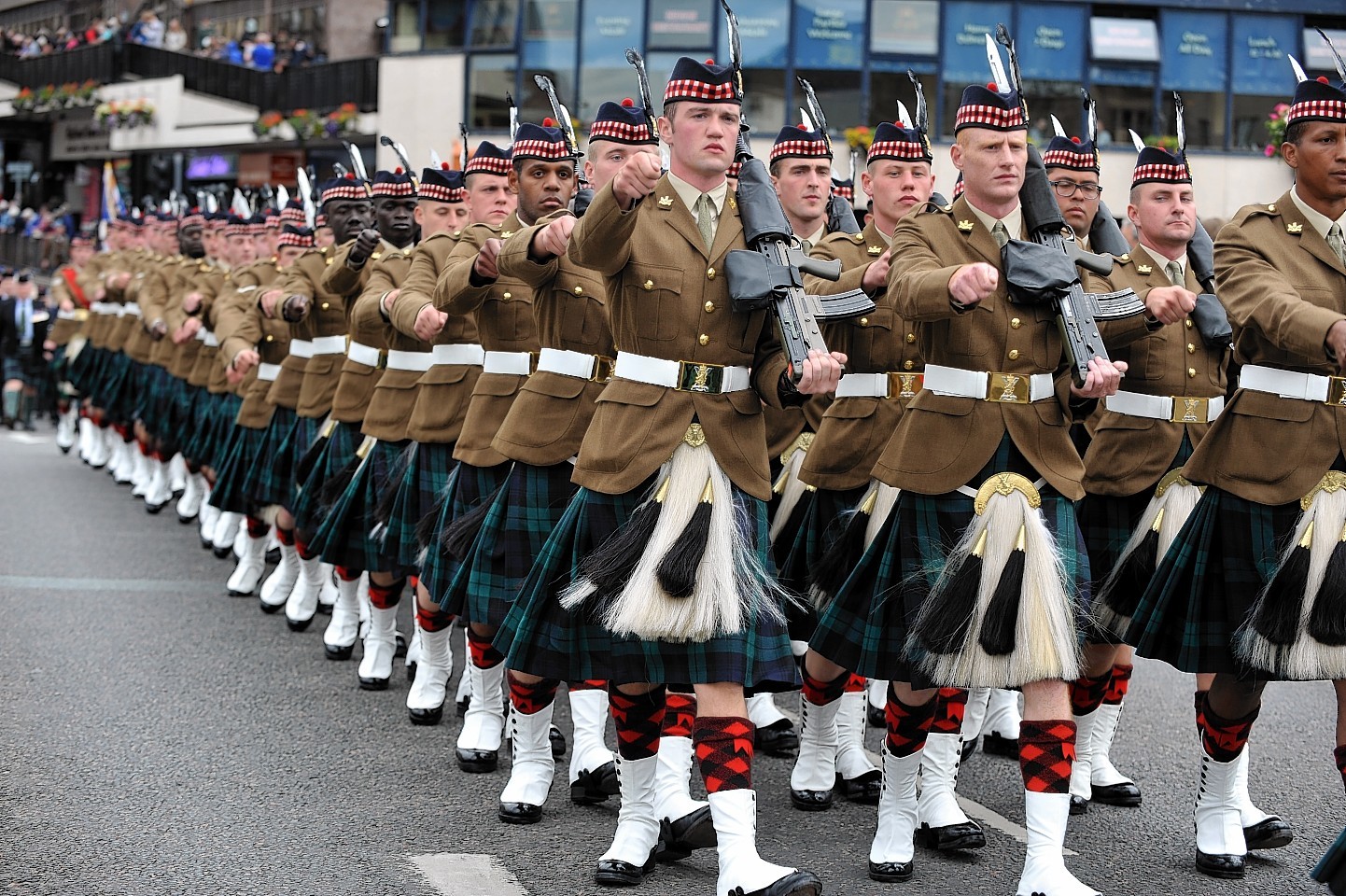 People thronged the streets of the Highland capital to pay tribute to the contribution of former and current military personnel during the annual Armed Forces Day parade.
The city was brought to a standstill as hundreds of veterans, serving soldiers – including more than 150 members of the Highlanders 4 Scots – and cadets marched through the heart of Inverness.
The procession also marked the homecoming of the 4 Scots, who have been on tour in Afghanistan.
As they lined-up for the start of the parade, veterans took photographs of each other on their mobile phones.
They included friends Sammy Torrance, Philip Lefevre and John Culliven, of the Royal British Legion.
Mr Culliven said he was pleased to see so many people supporting the troops.
He added: "I really like to come and do the parades."
Among those also taking part in the event were Jim Richardson, formerly of the Cameron Highlanders, and his son, also Jim, who was in the Royal Logistics Corps.
Mr Richardson jun said he was proud to be marching alongside his father.
Accompanied by pipe bands, the colourful procession made its way up Academy Street and High Street.
Crowds of shoppers clapped and cheered to show their appreciation as the troops passed, with many taking pictures.
Brigadier Hugh Monro, Provost of Inverness Councillor Alex Graham and Lord Lieutenant of Inverness Donald Cameron of Lochiel took the salute as the parade passed the Town House.
More than 30 motorbikes from the Royal British Legion Scotland Riders Branch also lined up along the High Street and joined the end of the procession.
Donna Lockyear said it was the third year that the group had joined the event.
The roar of the bikes competed with the skirl of the pipe band which led the marchers.
Historic military vehicles also trundled down the High Street behind the main parade.
The crowds also followed the line-up to the Northern Meeting Park, where the traditional drumhead service took place.
Families and visitors also enjoyed a range of stalls and fun activities.
Councillor Carolyn Caddick, the local authority's armed forces and veterans' champion, said: "The support from the public during events like Armed Forces Day is very important to troops and their families."
Officers from 4 Scots are also hoping to boost the numbers of Highland residents in their battalion and have launched a recruitment drive in the region.
Captain Frazer Stark said that there were opportunities in the regiment, despite publicity about redundancies.
He said: "While people at a higher grade than me made a decision on the redundancies, there is always going to be a degree of turnover in the service. Despite changes to our structure, we are still recruiting.
"There is a competitive wage and chances for further education. You can travel the world and do some pretty exciting stuff."