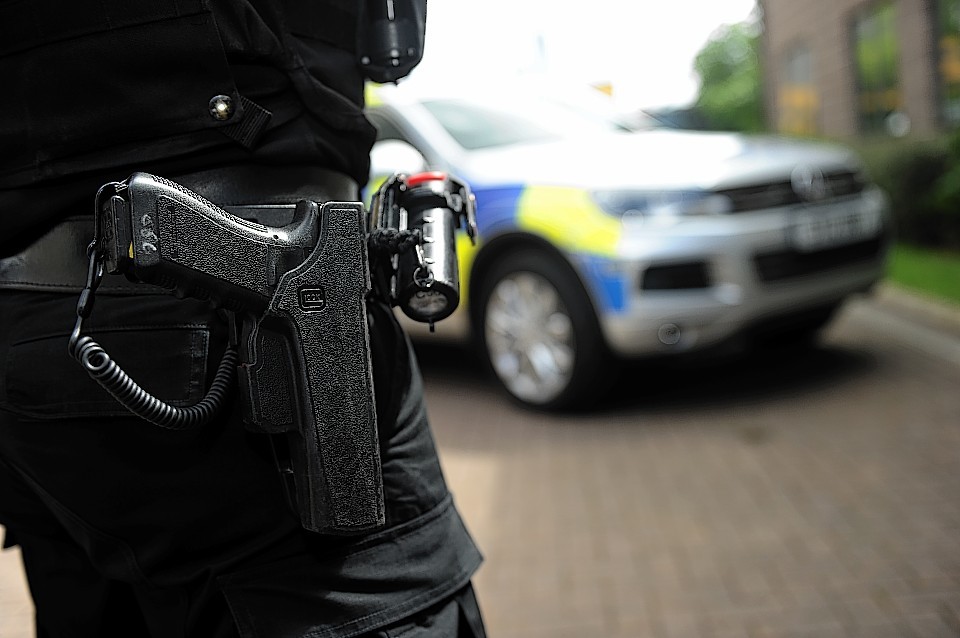 Alarmed residents have raised complaints after running into armed police at public places across Inverness, including fast food restaurants and supermarkets.
One man feared he was witnessing a serious incident when he saw two officers wearing handguns at a petrol station in the city-centre.
Another told the Press and Journal he saw two uniformed officers with pistols in holsters queuing for a checkout at his local Aldi store yesterday.
The man, Brian Mackenzie, said their appearance was "sinister".
It has also emerged that armed police were present at the recent Highland Cross biathlon.
One man who noticed their weapons told John Finnie MSP he "did not feel safe" when he saw them.
The routine deployment of armed officers in the Highlands has prompted fierce debate since it was raised by Mr Finnie earlier this year.
Critics say the policy is inappropriate for the north, where levels of violent crime have traditionally been low.
Mr Finnie said: "I'm not saying that officers cannot buy their snacks.
"But constituents have been in touch to say that on encountering police officers in shops or on the streets or at charity events, they do not feel safe."
He added that the issue was "not going to go away".
Mr Finnie said: "Just because we have one police service does not mean that everywhere in Scotland is exactly the same and has to be treated the same.
"It seems like managerial laziness."
Last night, Mr Mackenzie said he was shocked to see the two officers carrying guns at the Friars Bridge branch of Aldi.
He added: "To be honest, the armed officers went pretty much unnoticed in the shop, but it's disturbing if the public begin to accept this as the norm.
"That's what is sinister. People get used to it and then it is much easier to arm officers."
One resident told Mr Finnie they were concerned to find themselves standing beside armed officers in Tesco.
Another said they were alarmed at seeing armed officers in Macdonald's restaurant in Inverness.
Macdonalds manager Craig Duncan said he could understand that customers would be "disconcerted" at seeing police wearing guns, but he had received no complaints.
Mr Duncan, who is also the chairman of Inverness Business Improvement District, said: "It is not going to be a comfortable thing for customers to see.
"I am neither against it or for it. I would not stop police coming into the restaurant, with or without guns.
"I hope that customers would get used to it if it is going to be the policy from now on. But I can understand why people would be disconcerted to see them in a family environment."
Armed officers were on patrol in Beauly near the finish line of the Highland Cross on June 21.
Some 715 people took part in the coast-to-coast running and cycling event.
Chief Superintendent Elaine Ferguson said: "Armed response vehicle crews, in support of the divisional policing operation, were on patrol in the Beauly area at the conclusion of the Highland Cross event. The officers, who are familiar with both the area and members of the local community, were engaged in keeping people safe through road safety and high visibility policing.
"Officers took the opportunity to speak and engage with the public whilst maintaining a visible presence to deter crime and encourage good driver behaviour in the area. No complaints have been made to Police Scotland about the conduct of our officers that day."
Police Scotland said the force did not want to make any further comment.
The Press and Journal is running an online poll asking readers whether the Highlands needs armed police.
You can have your say at www.pressandjournal.co.uk